By Sam Eyoboka
ON Sunday, November 15, 1987, by divine plan, purpose and objectivity, immediate past National President of Christian Association of Nigerian, CAN, His Eminence Pastor Ayo Oritsejafor, led a few adherents to establish the Word of Life Bible Church in Warri. The birth of Word of Life Bible Church—a product of divine mandate—30 years ago opened a new vista in the Pentecostal movement in Nigeria.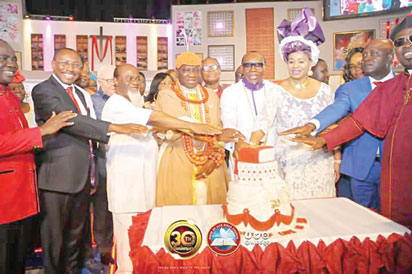 Earlier in 1972, while in the New Covenant Bible Institute, Benin City, Pastor Oritsejafor had an unusual encounter with the Almighty God where he saw himself ministering to countless thousands of people with great power. In that encounter, he heard a divine voice saying: "Take my Word to the World," and since then God has been faithful in making provision even when there were people who never believed he would last six months.
To celebrate the 30th anniversary of the mission, the church assembled leaders in different fields of human endeavour,  traditional rulers in Delta State, music maestroes, gospel artistes, comedians to a public lecture that was delivered by the founder/CEO of Algorithm Media Limited, Otunba Seni Adetu. He addressed the topic: "Leadership, Legacy and The Rule Of Law."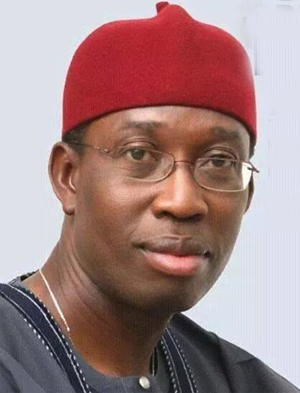 There was plenty to eat and drink to mark the occasion which was graced by the state governor, Senator Ifeanyi Okowa and several of his cabinet members, the Olu of Warri, Ogiame Ikenwoli I and a motley of traditional chiefs including the Ologbotsere of Warri Kingdom, Chief Ayiri Emami, an array of traditional rulers from across the state including the oldest traditional ruler in the state, HRM Owhorode of Olomu Kingdom, and several clergymen from across the country.
Elder statesman and first civilian governor of Anambra State, Chief Chukwuemeka Ezeife who was the chairman of the occasion, in his opening remarks, said Nigeria has failed God and humanity and therefore re-quires special prayers to remake the nation to God's original purpose.
Speaking at the maiden public lecture, Chief Ezeife averred that instead of tapping into the grace upon the life of the immediate past President of Christian Association of Nigeria, CAN, and drawing from the dividends of divine blessings, Niger-ians have constantly vilified him.
Describing Pastor Ayo Oritsejafor as a "man who has served to the fullest and at the highest and without blemish," the respected statesman maintained that "Nigeria has failed man and has failed God. God endowed every blessing on us Nigerians—the greatest concentration of blacks on the face of the earth but we have frettered away such endowments."
According to him, God had a pur-pose for creating Nigeria to become the rallying point and big brother for all blacks but because of poor leadership, Nigeria has frettered away all the opportunities God gave this nation, stressing "our country has failed monumentally, comprehensively and woefully.
"Nigeria has failed man. Nigeria has failed God. This is where and it must be now to change. The man of God (Pastor Oritsejafor) must pray to revive, remake Nigeria and a new Nigeria must come out from here. This country requires special prayers now to redirect the sheep of state," he said.
Also speaking in the same vein, the Chief Guest of Honour at the occasion and Delta State governor, Senator (Dr.) Ifeanyi Okowa believes that people who are so impactful as Pastor Oritsejafor should not and "can never go quiet because if you fail to speak then even when others speak there will still be a vacuum."
Commending Pastor Oritsejafor for the giant strides he had taken in life which had brought dignity to the state, Nigeria and beyond, Gov. Okowa urged every Christian in the country to take the gauntlet and pray at all times for the progress of the country, stressing that without the Church in Nigeria only God knows what would have become of the nation by now.
"As we return to our various homes from here, there are two things we must remember: we need to pray for our country. We may feel bad about the state of affairs in the country today particularly with our economy, I believe that God has a lesson for Nigerians to learn from it.
Lessons to learn
"That is the only reason why He has allowed it to happen. There are lots of lessons to learn, part of which is what the guest lecturer has already told us today.
"As you pray for the nation, remember that everyone of us is in a leadership position even the smallest group of people. And if each of us continues to impact on the society the way that is desirable, I believe that we will get somewhere. It's my prayer that this church will continue to grow from strength to strength. It's my prayer that Papa and Mama will remain to be more impactful for several more years so that they can grow others who will play the role God has enabled them to play in this nation and the world," Okowa stated.
Earlier in his lecture titled: "Leadership, Legacy and The Rule of Law," Otunba Seni Adetu, the founder and Group Chief Executive Officer of First Primus W.A. Limited described leadership as very germaine to the growth and development of any nation, arguing that if Nigerian government can fix infrastructure, "give us power in Nigeria and see what the dynamism of an average Nigerian can cause."
Otunba Adetu who served as the Chief Executive Officer and Managing Director at Guinness Nigeria Plc from July 1, 2012 to November 2014 and Executive Officer until December 31, 2014 and in several blue chirp companies including John Holt Plc, Coca-Cola among others, enumerated several abnormalities working against the nation's progress.
"The role of government is to create the enabling environment. Govern-ment has no business doing business. Create the enabling environment and let the private sector do what they know best to do. One of the problems we have today is that there is no good governance in Nigeria.
"The sort of things you do in a private company and you get fired, you get away with in the public sector. There is no rule of law in Nigeria and that's what is causing our problem in the country. What are the tenets of good governance? There is a saying that where there is no law, there is no sin because a crime is measured by the law of the land.
"The problem we have in Nigeria today is that there's law like there is no law. We are a lawless lawful country. You will recall what was said about the Judiciary recently suggest-ing that the institution was up for grabs by the highest bidder; the judiciary is supposed to be where you run to when there is no hope: and you want peace," he noted.
According to him, our leaders could say one thing today and another tomo-rrow, "even when things have gone wrong they don't take responsibility for what has gone wrong. They don't take accountability, due process. When they talked about some money missing in the Central Bank, or some other pla-ce….there's no due process."