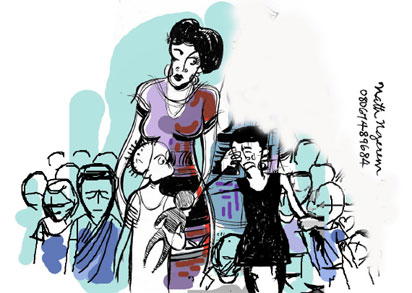 children
By Kingsley Omonobi
Abuja—Operatives of the National Agency for Prohibition of Trafficking in Persons, NAPTIP, and the Defence Intelligence Agency, DIA, weekend, rescued about 40 children from a torture chamber.
The chamber, operated in Abuja by a witch doctor, is where witches and wizards are exorcised.
According to sources, the children, aged between five and seven years, are taken to the said witch doctor, one Mr. Ikoh, at the Torture Clinic in Mararaba area of Abuja, by parents and guardians after they have been hypnotised by persons suspected to be working in partnership with the witch doctor.
Tortured
The children are then chained and tortured into confessing that they are witches/wizards, after the parents or guardians of the children would have been made to part with sums of money ranging from N50,000 to N100,000.
The sources said the alleged witch doctor has raked in nothing less than N10 million from unsuspecting members of the public within the last two months alone.
It was further gathered that Ikoh maltreat the children to the point of death, sometimes through starvation and flogging.
Ikoh, who hails from Akoh village in Nasarawa State, has been handed over to the Police and is said to have been in the business for several months.
Officials of NAPTIP, while confirming the story, noted that the rescued children are being moved to a facility where they will undergo medical tests to ascertain the level of torture they were subjected to.
The impact of their experience on their mental state will also be acsertained before working out how they can be reunited with their families.