By Emeka Mamah
Enugu— Governor Ifeanyi Ugwuanyi of Enugu State was the cynosure of attention at the 47th  Convocation Lecture of the University of Nigeria, Nsukka, UNN, last week, following the encomiums poured on him for good performance by the Chairman of the occasion and former Governor of the Central Bank of Nigeria, CBN, Professor Chukwuma Soludo.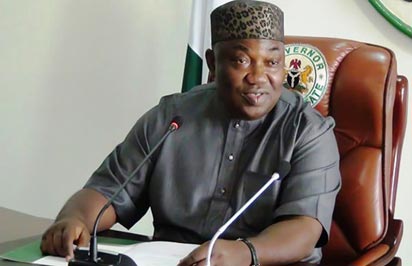 Prof. Soludo had applauded  Ugwuanyi for his "giant strides in Enugu State," saying that his feats in securing the state from vices such as kidnapping and armed robbery, had positioned the state as a safe haven for investment and habitation.
He spoke while giving the chairman's remarks after the lecture which was delivered by his successor at the CBN, Mr. Godwin Emefiele, an alumnus of  UNN.
This was even as the Vice- Chancellor of the university, Prof. Benjamin Ozumba, said that the institution had established a Roar Nigeria Hub, to pilot the version of its proposed science park, as some international companies like Huawei, a foremost Chinese Information Technology company, has established its training academy in the university, as part of its efforts to hunt for innovators.
Ozumba further said that UNN was producing the "Lion brand of laptops," adding that this was in a bid to improve the technological development of the country.
However, Soludo expressed delight over what he described as the massive infrastructural development in Enugu State, adding that he was impressed that Ugwuanyi had transformed the university town of Nsukka with the reconstruction of the Opi-Nsukka dual carriageway and other projects befitting a city.
The former CBN boss emphasized that cases of kidnapping in Enugu was now a thing of the past, adding: "I know that with Gov. Ugwuanyi (Gburugburu), we have secured continuity of good governance in Enugu State following his remarkable achievements in spite of the nation's economic challenges.
"I don't know how many of you came from outside. As you passed through Opi Junction descending down here, you will think you are in some parts of Europe. And I know how that road used to be in the past. Some people who live in Enugu State told me that kidnapping is no more, it's gone."
Soludo stressed that the road had been in a pitiable condition even before the eighties when he was a student at the UNN, until now when it was fixed by Ugwuanyi.
He further said: "Security is now in Enugu State. They are the fundamentals the entrepreneurs require to even begin to set up shops so, I thank Gov. Ugwuanyi for making Enugu State safe for investment," he said as the crowd applauded.
Earlier in his lecture, Mr. Emefiele had challenged the students and youths to be more entrepreneurial in their thinking to be independent, adding that the Federal Government, including the CBN, was encouraging commercial banks and other development finance institutions to create awareness through which innovative entrepreneurs could access credit with a view to creating opportunities for job creation.
Emefiele stressed that the apex bank was currently reviewing the broad frameworks of its development financing with a view to creating new channels through which entrepreneurs with great ideas would access credit with minimal effort.
"I will like to remind the graduating students that the UNN has equipped you to rule your world; go, therefore, and rule your world! In the spirit of one famous American President, I challenge you today to ask not what Nigeria can do for you. Rather, ask what you can do for Nigeria," he said.