•Says thousands, blocked from leaving Libya, in need of urgent help
• 'Jet owning pastors are a disappointment for not helping to evacuate stranded migrants'
BY SIMON EBEGBULEM, BENIN-CITY
Comrade Sunny Ofehe, founder/Executive Director, Hope for Niger Delta Campaign (HNDC), a non-governmental organization based in the Netherlands, attended the 10th session of the United Nations in Geneva, Switzerland where he raised the issue of the modern day slavery going on in Libya. In this interview, Ofehe, who has spent over 22 years in Europe, was in Nigeria, last week, during which he spoke on the Libyan issue.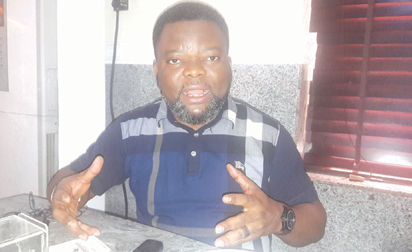 You have lived in Europe for over 22 years and have been involved in this issue of migration. What is your take on what is happening to Nigerians in Libya?
The United Nations 10th session on minority issues, this year, focused on youths. In many countries, unemployment rate is very high, poverty rate is very high. Young people that never engaged positively face a lot of challenges due to the fact that their socio-economic standard has dropped due to lack of government support. What you now see are graduates who end up not having jobs. What you then see is what they call the idle mind which is the devil's workshop. So the youth begin to find alternative means of survival and they start becoming vulnerable. Then you see people who come to them promising juicy lifestyle and better life in Europe. And when they don't have the means to follow the appropriate channels to Europe, they indulge in traveling by road. There is so much danger in traveling through Sahara Desert. I met a young man in Barcelona, Spain, some years ago, who went through that same route and he told me that one of the things they carried during the journey was blanket, and I wondered why they would carry jacket to travel through the desert that is very hot. He said at night, when they had to sleep, they needed to cover themselves with the blanket because of moving sand caused by strong wind. So when they slept and woke up, most of the time, they were covered with desert sands, so the blanket helped to protect them from being buried alive. And he said, sometimes, you could be the first to wake up in the morning and look around and see nobody. You will feel that people woke up before you but the reality is that when you wake up, you shrug the dust off only to find out that the other people are still buried in desert sand. That is the first line of action. Then they get abused. That is the first risk they take.
Then you have the people called the gendarmes or militants who the migrants meet in the desert. The militants abuse the women among them, beat up the men and shoot some. Also, some of the women voluntarily go into prostitution through that journey because they have no money to survive. I also met a girl in Spain who told me she spent two years in Burkina Faso, she speaks French fluently. I also met a family; they have three kids, their first daughter, in the cause of their journey, got pregnant and gave birth in the desert. They could not get a sharp device to cut the umbilical cord, but, luckily for them, they had a person who carried a tin of Sardine and they opened the tin and used the sharp part of it to cut the umbilical cord. They could not bath the child until they got to Algeria. You can imagine these horrifying stories. So what we see today happening in Libya has been a consistent part of life traveling through the desert. What we see today is because of the social media, everybody now carries a device that can be used to send messages to the whole world. What is happening today has been happening in the desert, in Algeria, Libya for years. Right now, we don't have a government in Libya; you only have ISIS, Al Qaeda and militias using Nigerians and other people to raise money to fund their terrorist activities. How do they do that? They sell these Nigerians as slaves to raise money or use them as direct labour and collect the money that is supposed to be paid to them. You know, the terror groups and militias need to buy arms, they need to eat; they need to move around.
Another thing that is happening in Libya is that the UN agencies, saddled with the responsibility of helping refugees, displaced persons, are now providing funds for people who claim they run makeshift camps to assemble these migrants while they process their return through the International Organization for Migration (IOM) to their various countries. What we see is that there are makeshift camps everywhere. The Libyans will assemble the migrants, go to the UN and tell them that they run a camp, so the UN should give them money to run the camp. So they use it to take money from UN agencies. When they collect the money, they immediately carry the same group of migrants and use them to set up another camp in another area and they will also go to the UN to collect money. The slave trade continues to thrive under the nose of the UN. After collecting the money several times, they sell the migrants as slaves or use them for forced labour until the day they will be returned to Nigeria. Sometimes, they sell the migrants to another region for the purpose of setting up another camp. This is institutional failure on the part of these agencies. But I don't blame them because the terrain is very difficult for them to send their workers to those locations to access the genuineness of the camps. And the UN feels these criminals are doing them a favour. The UN will provide food and drugs but these people that run the camps don't give the food to migrants; the migrants will even be calling their people in Nigeria to send them money which these people also collect from them. So the Libyans are using this to make money.
Deaths in the Mediterranean
Then when you come to the issue of people dying in the Mediterranean Sea, the people make the journey in the zodiac; they fill balloon with air, and a zodiac that is supposed to carry like five to six persons, they load it with like 50 persons and they will expect the wave of the water to float them from locations like Tianjia to Spain, Italy or Greece. And anytime weather changes and nobody is controlling the zodiac, these people will be at the mercy of the sea. Some will float for days and weeks until they see naval boats or Italians patrolling the sea. And the Italians have been doing a great job, especially their Red Cross and other charity organizations that have been going to the sea to see if they can find these migrants and rescue them. And majority of these people are Nigerians. It is a shame that African Union has not declared a state of emergency or convene a summit to address this issue. They rely on Europeans and Europeans, through their policies, want Africans to stay in Africa and that is why most of the migrants are now stranded in Libya. They (migrants) are now at the mercy of the Libyan people who are now using them as slaves. I think it is a wake-up call for the government of Nigeria, having known that majority of these migrants are Nigerians, to rally countries like Cameroun, Senegal, Liberia, which also have their people in that area, and fight the situation. They need to find a lasting solution to this problem and then come back home to start an orientation campaign and use the videos that we see now on national television and the print media to engage these people and let them understand the risk they face in embarking on this type of journey.   Why I believe that it is easy to deal with this issue is that we can narrow down the region where these people are coming from. Nigerians rank highest among African migrants stranded now in Libya and who also die in the Mediterranean Sea and, of these Nigerians, Edo indigenes are more than those from Delta State. We know where these people came from; so we need to start sensitizing them in those areas and go after their sponsors.
Just recently, a family friend called me from Libya and told me she had been in prison in Libya and had to pay 180 dollars to secure her freedom. And the prison was not a Libyan government prison, it was a private prison. She must have been raped, used for forced labour before she freed herself. She asked me to give her money so she could take the Mediterranean Sea and come to Spain. I told her she needed to go back to Nigeria but she told me the risk was greater than proceeding to Europe through the Mediterranean Sea. I now said she should arrange it through the IOM but she said you still needed somebody to help you push for your name to enter the list of those to be returned to Nigeria. In Libya, we have the Nigerian embassy and people expect the officials there to do their work. But I also know that in the embassies in North African countries do not have the funds to help these people in thousands. So I think Nigeria should look at how they can use their embassies in Libya, Algeria and Morocco to set up a special group that will look for funds to bring these stranded Nigerians back home. And we can work with the security operatives in countries that still have proper security in place, like Algeria, Morocco and Egypt, to ensure that we make it much more difficult for migrants to go through that route.
Back to the UN, I know they have been doing a lot, but they can still do more. They can still put pressure on the African governments to do what is right. When I spoke at the UN recently, I told them to set up a body specifically saddled with the responsibility of dealing with this Libyan issue that has brought shame to us across the world. They can put systemic pressure on the Nigerian government and other governments in Africa to deal with the issues.
You grew up in Edo State and you are from Delta State. Why do you think youths from these areas prefer to go to Europe by all means?
When you look at Edo State, you find that their major source of employment is the civil service. And in the civil service, the population has outgrown the number of the ministries; therefore, there is no job anymore for the people. As a young man, I used to see companies in Edo State; we were living around Egor. We had Canada Dry and many other companies engaging the youths then and all of a sudden the companies folded up. All you see now is people struggling to engage in private business and, when everyone runs private business, you don't give room for employment. This is the challenge in Edo State. And, you know, over time, Edo young men and women were the first to actually travel abroad; so the awareness of traveling has actually grown. So when they travel, many of them are lucky, their lives change, they are able to build houses, buy cars; sometimes they send containers full of goods to their families. Now the youths coming up without jobs are using what they have seen to insist they will go to Europe by all means. Unfortunately, they don't have the means to get proper visas; so, out of desperation, they meet people who are ready to deceive them by starting the journey through road and this is how the migration started and Edo people now have the highest number of the people stranded in Libya. It is basically due to unemployment. Delta State is a little better because we have some oil companies employing youths as contract staff; so Delta State youths did not engage in traveling out until recently when oil companies started relocating to the deep sea, Lagos State and Abuja. So, it is like Delta State is competing with Edo on this migration issue. And for any government to deal with this issue, you must strengthen the middle class so that the middle class can join in the employment drive that will boost the economy and people can stay back in the country, knowing that they have jobs for which they get paid at the end of the month.
How do you think the sponsors of human trafficking can be apprehended because it is like a cartel?
You have two dimensions of trafficking. You have a trafficking where the traffickers deal directly with the victim. They meet the victim, tell him, 'you don't need to suffer too much, come to Italy; we have a job waiting for you there'. Then they take the victim because, at the end, the traffickers invest in his travel. But then it costs almost nothing to take victims through the African route; then they have a contact waiting in Libya. Once victims are received in Libya, they can start making contacts with relatives overseas. I have actually received phone calls from victims who said they were in Libya and they needed to cross the Mediterranean but they needed money. Then there is another angle to it, which is sad, and that is through the parents. Some families in Benin encourage their children to go through that journey because they see it as the last hope. They sell their houses and other properties but what they don't know is that life in Italy is also very difficult. If you go to Napoli, Torino, you will never believe the way our girls live there. They live in a very horrible condition and you will ask yourself, is this journey from Nigeria through the desert to Libya and the Mediterranean sea worth it? Then, how do you convince these young people to see the bigger picture because what they see is the success story of the houses that were built by these people in Europe or the cars they use and the businesses they floated, and not the terrible lifestyle of those suffering in Italy? Some of these people know what they are going to do when they get to Europe, but they prefer to do that than to remain in Nigeria doing nothing. Some people even parade themselves openly as sponsors, some big women and chiefs are involved in this business; that is the sad reality. What I think we should do to combat this is, first of all, government should work with civil society organizations and agencies like NAPTIP saddled with the responsibility to deal with human trafficking. Such organizations should be properly funded so that they can be used to reach out to families, organize village meetings, and educate our people on this issue. Again, when you educate people and you don't provide an alternative for them to live a good life, then your effort will be in vain. So we should encourage companies to grow and create employment opportunities like the Edo State governor, Godwin Obaseki, is trying to do
But why is Italy so attractive to these migrants?
The truth is that you get customers in Italy if you are a prostitute, Italians patronise prostitutes. But what migrants get at the end is not commensurate with the risk they face. Why Italy? Italy has a soft landing for migrants and that is the same problem countries like Greece and Spain have. They are too sympathetic to people. And, in Italy, you have so many charitable organizations that help migrants, Catholic organizations. Once they arrive Italy, nobody cares whether they are illegal migrants; the Catholic groups take care of them. They give them temporary residency permit and start processing asylum for them. And with the temporary residency permit, they can enter other parts of Europe. This is the challenge the European Union has been having and that is why member-countries have been struggling to fortify their boundaries in a way that illegal migrants will not use their country as entry point. They feel that the cartel, traffickers use such entry point to bring people to Europe. Don't forget also that these countries have borders with the Mediterranean and the places they land are actually Islands in those countries. So they are not really like landing in the main Italy, they are Islands surrounded by the Mediterranean sea. And because the Island belongs to the territories of those countries they are accepted by concerned nations.
After the CNN report that exposed the Libyan slave trade, the way the world responded was amazing.   But again, the Nigerian government is not doing enough to evacuate our people out of Libya. They are not doing as much as I would love Nigeria the giant of Africa to do. Nigeria should pilot the campaign to end this modern day slavery because they have the name, the political and military power in Africa. I would have expected that by now Nigeria should have been holding big international summit on this migration issue, bringing all stakeholders together including representatives of the countries where all these people end up. And forcing them to also do their part and tell Nigeria what to do in order to collaborate and form a formidable team to end this madness. By now, all the Nigerian ambassadors should have been recalled to Nigeria by the Federal Government and given specific mandate to end this problem. Then they should empower the embassies with the means to comb the whole of Libya and get our people back. So the political will should be stepped up as you can see that the euphoria that greeted the CNN report is dying down gradually and, after some time, people will forget about it and the illicit trade will continue. So we need to have an action plan, we need to understand that people are dying. Look at the dead bodies that were picked up in Italy the last time, 21 of them were Nigerian girls and under age. Autopsy result revealed that they were tortured and raped before they were thrown into the sea. The Italian government did a funeral for them and no body from the Nigerian government came to show love to them.
Governor Obaseki recently visited Italy where he promised to rehabilitate returnees and also appealed for support from Europe and Italy. How do you see his moves?
I think first we have to commend the governor for visiting Italy. It shows political will, it shows the government is committed to finding solution to the problem. But government must identify the problem, why these people are leaving and know how to tackle it. Let them build skill acquisition centres and let's see the impact on the people. Then I believe European nations can assist him create jobs for the youths of the state so that they will stop going to Europe illegally. I saw the other day on television the graduation of some Libyan returnees who were trained in agriculture, about 150 of them, by the Edo government. That is a wonderful move; I was in Europe when I watched that and I think such things should be given publicity so that people will see them and know how to get to those places. You now see people returning on their own because they have seen hope. Print flyers, go to markets; educate market women because some of them encouraged their children to travel through the desert.
But you are aware of the involvement of native doctors in this trafficking business. How do you think they can be checked?
That will be difficult because it is part of Edo tradition. The native doctors don't go to these people to do sacrifices; it is the people that go to the native doctors to seek help. And the native doctors are the end part of the trafficking process which means the trafficker has reached an agreement with the victim before bringing the victim to come and take oath so that all the conditions attached to the trip must be kept or it is the victim's parents that is bringing the victim to come to the voodoo man to ensure that the gods protect the victim in the course of the journey.
Statistics of deaths
I was watching a programme in which an official from the European Institution for Migration said that, last year, more than five thousand people died in the Mediterranean Sea and that, this year, they have recorded about four thousand deaths in the sea. You can imagine five thousand people, and it may be more and most of them were Nigerians and nobody is talking about it. It only took a documentary of 15 minutes for people to wake up, it is sad and we have a government in Abuja. In America, we watched how the American government responded to one American citizen that was arrested in North Korea. Yet you have five thousand people dying in the Mediterranean Sea and nobody cares.   I wonder how our leaders sleep everyday under this condition.   These are young men and women who are supposed to be leaders of tomorrow, so we should take these things very seriously.
Churches are a big disappointment
Apart from government, I am disappointed with the role of churches in this matter. The best instrument we can use to end this migration is the churches because large populations of Nigerians go to churches, they believe in their pastors. Even if government comes up with a policy to tackle this, churches must be involved. Churches can use their reach to help tackle the problem by sensitizing their members. Again, I have not seen our churches trying to evacuate these Libyan victims, yet our pastors have private jets. We saw the role American churches played in Darfur, Sierra Leone, Liberia, some of them hired cargo jets stuffed with relief materials. We also saw what they did in hurricane destroyed areas. But we have not seen that in Nigeria and some of our churches have the budget to do that. I even read that Samuel Eto, an individual, chartered a plane which was sent to Libya and brought some people back. But our churches are doing nothing and it is unfair. They would have even created centres within the churches to help rehabilitate those that were brought back by government. Those people will share their experiences in the churches and that will help discourage people from embarking on such deadly journey.