They offered me N50m to implicate Tompolo —Daniel, IPDI spokesperson
How blood-sucking Boko-Haram members tried to kill me in the cell
Betrayers take over N'Delta struggle

By Emma Amaize, Regional Editor, South-South
SPOKESPERSON of the Ijaw Peoples Development Initiative, IPDI, an Ijaw ethnic nationality rights group, Comrade Ezekiel Daniel, seized by Department of State Services, DSS, operatives August 3, 2016, on the suspicion of being the mouthpiece of the Niger Delta Avengers, NDA, a militant group, gained his freedom, November 26, after spending 15 months in detention on unsubstantiated charges.
Ezekiel, who hails from Egbema Kingdom, Warri North Local Government Area, Delta State, said that in detention, he was offered N50 million bribe to indict ex-militant leader, Government Ekpemupolo, alias Tompolo, who his accusers desperately wanted to link to the NDA and the bombing in the creeks at the time.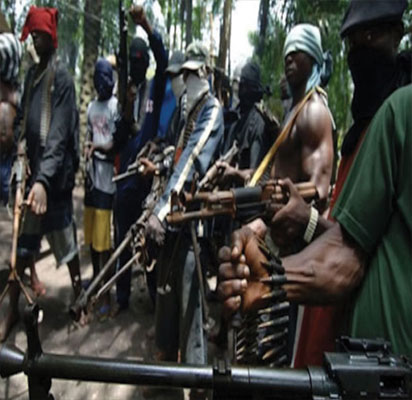 The activist, who narrated his several ordeals in detention, said he rejected the offer and gave a vivid account of how, following suffocating pressure by IPDI and national president of the Ijaw Youth Council, IYC, Mr. Eric Omare, the Director General of DSS set up a high-powered panel to look into his case, leading to his eventual release.
How they arrested, blindfolded me
"My name is Comrade Ezekiel Daniel; I hail from Egbema kingdom, Warri North Local Government Area, Delta state. I am an activist and the spokesperson of Ijaw Peoples Development Initiative, lPDI, who at all time objectively cried out to the world about the oppression, slavery and second- class treatment the people of Niger Delta region faced daily in the hands of Nigerian government.   This is despite the fact that the oil that runs the wheel of this country's vehicle comes from our land.
"They held me captive for about 15 months, after my arrest on 3rd   August 2016.   Security men trailed me to a hospital where I was attending to a family sister awaiting admission at a hospital on Ginuwa Road in Warri.   DSS arrested me in Warri like a wanted man and took me to the Effurun Barracks, near Warri, after blindfolding me
"I was severely beaten up at the hospital.   After I received a hit at my spinal cord, I became unconscious. I didn't know why they arrested me until I was taken to Effurun Barracks. They interrogated me on whether I was the spokesperson for the Niger Delta Avengers and I responded aggressively. When I asked them whether that was what they told them, they were irritated and I was severely beaten up for mentioning those names that orchestrated my arrest.
Interrogation in Effurun Barracks
"At Effurun barracks where I was interrogated, I was asked to tell them my connection with Niger Delta Avengers.   I told them that I was not Avengers' spokesperson and I didn't know members of Avengers. They asked me my connection with former Niger Delta agitator, Government Ekpemupolo, alias Tompolo, I told them, I did not have any connection with Tompolo, and that I only knew him as a former freedom fighter. They asked me of several other persons that I did not know.
"Meanwhile, I asked them to leave me and let me go as I knew nothing about the allegations leveled against me. They checked my Face book account and found out that I have been a social activist for years. However, they said they were told that I was a militant. They kept me in Effurun Barracks for about two hours, thereafter, they told me, I would be going with them to Abuja.
Bundled to Abuja
"I asked them to allow me inform my president, Comrade Ozobo Austin and my next of kin, but they refused. They asked me to give them the two numbers, which I did but they never called them. They forcefully dragged me into one of the presidential jets and taken to Abuja.
"At the Defence Intelligence Agency (DIA), they kept me in an underground cell of 18-feet below the earth. There, they interrogated me on several subject matters that had to do with Niger Delta.   Not satisfied with my response, after two weeks , I was shipped away like a slave with chains on my hands and legs to the DSS,   where I met a lot of Ijaw youths,   who informed me that a petition was written against me by Okerenkoko APC youth leader and others.
N50 m to implicate Tompolo
"I perceived that my arrest was orchestrated by our Okerenkoko betrayers. I was offered N50 million to rubbish Tompolo by those, who orchestrated my arrest. I however turned down the offer. I told them I could not betray Tompolo and that I didn't know the offence he had committed to betray him. I told them that it was not my style to rope people for personal interest. Since then, they promised to deal with me. Also, when Simon Bebenimibo was arrested, I called   him and he narrated how soldiers pulled off the roof of his house to effect his arrest. When I exposed the identities of those who orchestrated his arrest, the APC Okerenkoko youth leader and Tompolo's former commander in Abeam, who were close to security agents, were angry and ordered for my arrest," Daniel disclosed. I was arrested falsely after being tagged as Niger Delta Avengers' spokesman. My enemies did it to suit their personal interest. I know nothing about this allegation. I suffered for something I know nothing about.
Many died in my presence
"My arrest was a sad one; I wasted one year and 3 months in prison unjustly. I fell sick and got healed without medication. Several persons died in my presence in the cell. I experienced severe cold in the cell. I thought I would die but God saved my life," he said.
My wrongdoing
Daniel declared, "My resolve to protect my mother land and caution against those, who were peddling falsehood against Tompolo was my sin. Betrayers within and outside the region want Government Ekemupolo, popularly known as Tompolo, dead at all cost through all manners of evil imaginations including   issues related to Nigeria Maritime University. This I see as vindictiveness and pull-him down syndrome under the cover of calling for accountability."
"I was told that the Vice President, Prof Yemi Osinbajo,visited Gbaramatu Kingdom in   January, this year,   he saw with his two eyes   magnificent buildings and other facilities that constitute a university. People deliberately orchestrated lies to discredit Tompolo before President President Buhari and Nigerians," he asserted.
Experience in custody
He said, "My experience in Nigerian government incarceration was terrible, full of agony that I found no word to describe it.   I encountered   a lot of   pains. But one experience that keeps ringing in my head was being kept in the same cell with blood -sucking Boko haram terrorists, who tried all they could   to kill me due to their hatred for my region and religion. They treated me like a prisoner of war and subjected me to heavy beating. God used many people to bring me out from detention."
Freedom
"Several persons intervened to secure my release. I was told about the efforts of my group, IPDI, my family, Barr Eric Omare ,IYC president and others. They wrote several petitions, publications and bail applications. They filed suits at Warri and Abuja Federal High Courts and I think these efforts pressured DSS to set up a panel to re-examine my case.
"I was brought out to face the panel. They interrogated me again and after that interview, the DSS director ordered that I should be released unconditionally. Immediately, I was flown to DSS office at Asaba on Saturday 25th November, 2017. From there, I was released to my family without any charge on Sunday 26th   November 2017," he said. .
Betrayers have hijacked N'Delta struggle
The activist told Saturday Vanguard, "My new resolve in life was the lesson I have learned.   My detention made me to know my real friends. What I encountered in the prison cell made me to know God more. I have to start all over again. One year and three months were wasted. I have come to realize that the genuine activists are the most hated. It makes me understand that betrayal has taken the centre place of Niger-Delta struggle for self-determination and restructuring.
"I got to understand that informants are most celebrated in Ijaw and Niger Delta region. My incarceration made me to understand that the earth is like a land of many holes and man needs to tread carefully.
I'm now a graduate of   school of life
"I strongly believe that we are in the days of locusts, but God will restore the good ones. I will bounce back very strong. They made me to undergo the school of life. I have graduated from it and   I am better experienced than before," he asserted.
He added, "I am not deterred by my unlawful detention, it only makes me more brave and strong. I will not abandon the intellectual struggle for restructuring of this country. I remain what you know me for, dogged and pragmatic.  "
Appeal to N'Delta leaders
The activist, who lamented the plight of several other Niger Delta youths still in detention, said,
"I am using this medium to call on the Pan Niger Delta Forum, PANDEF, led by Chief Edwin Clark, to ensure that the over 50 Niger Delta youths in DSS custody are released."
"Part of the reasons why my release was delayed was because Papa Clark dialogue team failed to demand the release of all those arrested in the region in relationship with the struggle," he said