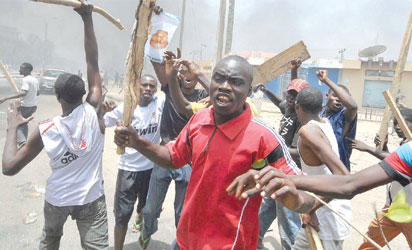 Scores of suspected political thugs and hoodlums, on Thursday, invaded the premises of the Federal Radio Corporation of Nigeria (FRCN), ldofian in Kwara.
The suspects swooped in on the premises of  the station during the weekly political programme, sponsored by the state chapter of the Peoples Democratic Party (PDP).
The Commissioner of Police, Alhaji Lawan Ado, told newsmen in llorin that the command swung into action immediately after receiving a distress call on the arrival of the suspects at the station.
He said that the suspected political thugs took to their heels before the arrival of policemen.
The spokesperson of the Police Command in the state, Mr. Samuel Okasanmi, however, said that no violence was unleashed, as the hoodlums ran away before the arrival of the police.
He said that the command was still investigating those behind the incident as well as keeping vigil on the station to ensure safety of lives and property.
The state Publicity Secretary of PDP, Mr Rex Olawoye, while speaking with NAN on the incident, said the suspected hoodlums were after him and other PDP members participating in the programme.
Olawoye said that the suspected thugs fired several gunshots into the air and ran away before the arrival of the police.
The PDP spokesperson said that the one-hour programme went on air unhindered without fracas or anybody sustaining any injury.
Efforts made by to speak with the spokesperson of the All progressives Congress (APC), Alhaji Sulyman Buhari, on the development, proved abortive.