By Ikechukwu Nnochiri
ABUJA—THE Federal High Court in Abuja,  on Wednesday, deferred hearing on a suit challenging powers of the Nigerian Police Force, the Economic and Financial Crimes Commission, EFCC, or the Department of State Service, DSS, to search the Abuja residence of Governor Nyesom Wike of Rivers State, till  January 22, 2018.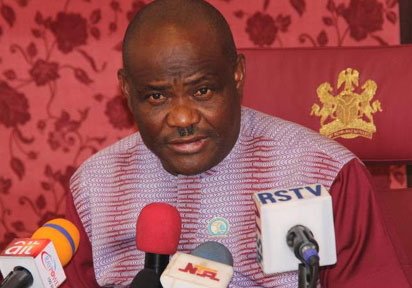 Wike had in an Originating Summons he filed through his team of lawyers led by Mr. Sylva Ogwemoh, SAN, prayed the court to abort any attempt by the defendants to execute any search warrant at his residence in Abuja or any other part of the country.
Insisting that he has not committed any criminal offence to warrant a raid at any of his residences, Wike, in a 24-paragraphed affidavit that was deposed to by the Attorney General of Rivers State, Mr. Emmanuel Aguma, SAN, contended that allowing the defendants to proceed with such plan would amount to a gross violation of his constitutional immunity.
Specifically, Aguma, SAN, told the court that the security agencies were planning to raid and search Wike's residence situated at Ortega Close, off Hassan Usman Katsina Street, Asokoro Extension in Abuja.
"I know as a fact that a search warrant is a process of court. I also know that the plaintiff or his privy is obligated to be present during the conduct of the search at his premises.
"I further know as a fact that the owner of a building is obligated to give unhindered access to his premises to the defendants while the defendants are executing a search warrant.
"If not restrained by an order of the honourable court, the defendants shall proceed to execute the said search warrant. The plaintiff at the place and time hereinbefore informed me and I do believe him that (a) he has not committed any criminal offence (b) He is vested with constitutional immunity (c) The actions of the defendant shall violate his constitutional immunity, (4) The defendants are witch hunting him to silence him and tarnish his hard-earned reputation", the Rivers Attorney General averred.