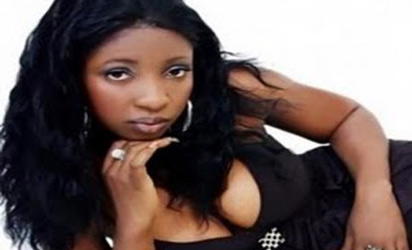 *Anita Joseph
BY ROTIMI AGBANA
Delectable Nollywood actress and singer should be having a swell time in the United States of America where she is vacationing but the reverse is the case, as the diva's attention has been drawn to some crimes being perpetrated in her name on Facebook.
According to the voluptuous Anita, some friends of hers called her attention to some Facebook pages purportedly owned by her with her pictures being used to defraud unsuspecting people. In one of the evidences made available to Potpourri, her picture is boldly displayed and presented in such a way that says she's soliciting men for romantic relationships.
One of such scam pages reads  thus: " I am a very honest, loving, caring and romantic lady. I am here to find love, and start a serious relationship with a loving and caring man.
Please let me know your intentions and opinion about me and if love, romance and a serious relationship is what you are looking for, feel free to contact me, maybe, you are the man I have been waiting for, and I am the lady you have been looking for, stay blessed and search no more, I am here for you,"
Using her picture they quote her name as Felicite, aged 37. According to her, they ultimately request for money from victims.
Addressing the development she told Potpourri on phone that she's no longer on Facebook, stating emphatically that she had been off the platform for six months or thereabouts.
"I'm no more on Facebook. I have been off it for about six months. I have heard many reports about how people dupe others in my name, requesting for money to have a date with me. The reports have been coming from many quarters and it is high time I addressed this and let the whole world know I have nothing to do with it. Any Facebook account out there in my name or bearing my picture is fake.
I repeat, I am not on Facebook any more. It is so embarrassing and it saddens me that people can be using me to defraud people. I repeat, I am not on Facebook anymore, I am only on Instagram as @anitajoseph8," she said.