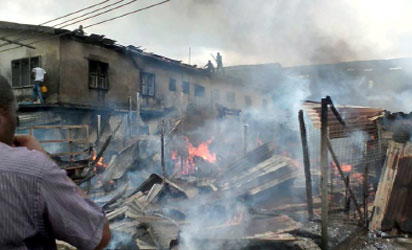 The buildings and shops razed in Kolokolo, Enerhen, Uvwie Local Government Area, Delta State.
By Jimitota Onoyume
ALADJA  community has urged the federal government to relocate the headquarters of Warri South West local government area  to Warri GRA or Ogidigben ,stressing that the move would end the frequent clashes between Aladja community and its Ijaw neighbour of Ogbe-Ijoh
Making the appeal yesterday at a press briefing  in Aladja, Udu local government area 1st Vice President General, Aladja community, Prince Ibrahim Dumuje said several efforts by the Delta state government to broker peace in the area had collapsed, noting that relocation of the local government would bring enduring peace in the area.
"Mr President Sir, following the pains we are going through as a result of incessant attacks which have led to loss of many lives and properties, we hereby appeal to the federal government to as a matter of urgency wade into the matter in order to restore peace between us and Ogbe-Ijoh.
One of the ways which we believe will bring about lasting peace is the relocation of the Warri south west  local government to its original location  in Warri GRA or Ogidigben.
Mr President in anticipation of your prompt action in this matter to avoid further loss of lives and destruction of properties", the statement said.
Prince Dumuje who was flanked by other leaders in the community and read from an address also signed by Mr Ellias Dogene ,Chief Photo Ogbe and Mr Onatomre Wisdom recalled several failed attempts by the Delta state government and good spirited individuals to resolve the crisis between the two communities that have lingered on for over two  decades.
" It is noteworthy that in all the various attempts made by good spirited individuals and the government to settle the incessant diaputes Aladja community has always been fully cooperative", they alleged.
Continuing, they said some of the interventions included the peace move initiated in 1995 by the Orodje of Okpe , Hon Justice Dan Azinge Commission of Inquiry  in 1996, Hon Justice Nwulu Panel of Inquiry of 2009