By Chioma Obinna
Is childbearing a curse or blessing to womanhood? This nagging question kept reechoing as reporters  watched surgeons at work in the operating theatre of the Usmanu Danfodiyo Teaching Hospital, Sokoto.
Lying on the table was a relatively young woman. She was being repaired after suffering from a complication of obstructed labour known as Vesico Vaginal Fistula (VVF).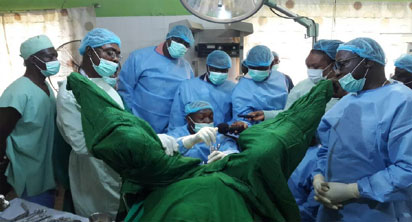 Being in the operating room watching as private parts were being "butchered"  certainly was not for the faint hearted.
It was not a pretty spectacle. Looking on, the sight was like a debasement of womanhood, that further reduced any attraction towards thoughts of reincarnating as a woman, that is if indeed there is reincarnation.
The foregoing aptly describes the mood during a live surgical procedure performed on a fistula patient. It was a hands–on training put together by Engender Health for upcoming fistula surgeons in a bid to expand access to treatment for thousands of victims of the malady in the country.
The experience was intriguing and mind-blowing.  It was quite an experience for all the journalists. Many wished they were not present and cringed at the sight of blood. It made them see the surgeons in a new light. Appreciation, approval and respect were just few of the accolades showered on the crop of medical doctors who went great lengths to save the helpless women from the clutches of shame.
Emotions
A few of the onlookers could not control their emotions as they wept quietly while others could not summon courage to raise their face all through the 2-hour surgery.
A male journalist in the room could not hide his feelings. "This alone can discourage any man from allowing his wife to go through child bearing," he remarked.
But if the reporters could not withstand the sight, no member of the medical team blinked at the sight of blood. They all went about the task  professionally.
All through the surgery which lasted about two hours, it was joint effort.  The reporters were fascinated by the almost mechanical action of the surgeons who were cutting and suturing (sewing) the fistula holes without expressing any emotion.
The expertise of the team led by Prof. Oladosu Ojengbede and Prof Sa'ad Idris, however, according to some of the trainees was mind blowing. The exercise however showcased the need for improved and expanded training for medical doctors in Nigeria.
But quite interestingly and as a matter of fact, many Nigerian doctors currently have limited exposure to fistula surgery which is not unconnected with  paucity of fistula surgeons in the country.
Today, fistula which is an abnormal opening in the birth canal that results in chronic leakage of urine or faeces of both, is no longer for the poor or rural women.  Vesico Vaginal Fistula (VVF) or Recto Vaginal Fistula (RVF) are conditions commonly caused by obstructed labour. It was gathered that even with hospital delivery, over 20 percent of current cases in most centres are now caused by complications of Ceasarean Section.
Statistics show that every day, 145 women in Nigeria die giving birth, however, between 12,000 – 15, 000 others end up with Obstetric Fistula one of the complications of delayed birth.
Backlog
Currently there is a backlog of 250,000 -400,000 women with the demeaning condition. These women have suffered physiological and psychological damage that affects their natural metabolic activities. They lose their reproductive capacities and in many cases their babies also die.
Mentees react
One of the mentee doctors that took part in the hands- on- training, Dr. Emmanuel Achime, described the experience as mind blowing. He told Good Health Weekly  that no doctor wants to injure any patient deliberately but noted that it happens due to inexperience. "Doctors need a lot of mentorship and training," he noted.
Another mentee, a Consultant/ Senior Lecturer, University of Nigeria Teaching Hospital (UNTH), Enugu, Dr. Eziamaka Ezenkweli, described the exercise as a wonderful experience, saying that the training has motivated her into going for further training on fistula surgery.
Ezenkweli who said she was not adequately exposed during her residency training noted that although she has done other surgeries, she has never performed a fistula surgery in her life.  "It was a wonderful experience.
I liked everything, as a consequence of the training I am considering going for further hands on training in Centres like Abakalili. I have made some contacts with people there. I will have opportunity of learning more there and becoming a fistula surgeon for me to be useful to women who will come to me for assistance."
Lead surgeon speaks
"Though, the surgery looks simple it was a complicated one," Consultant Fistula Surgeon, Dr. Sa'Ad Idris remarked.
"The patient was really very lucky and we are lucky to have a bigger audience. She has a fistula which developed nine years ago as a result of prolong obstructed labour which the baby came as usual non alive.
"I can tell you initially the fistula seems very simple but you can see after the dissection it turned out to be very wide and involved a technical place which is now closed.
"We have to do an extensive dissection to make sure we aligned the defect and corrected the defect so that the fistula can be closed and she will have her continence restored,"
Speaking on the techniques applied for the surgery, elated Idris,a former Commissioner for Health in Zamfara State said it was a combination of many techniques. "We dissected the vagina wall out from the bladder and the urethral. And then, use 'step by step' surgery technique. With such technique we started closure from the angles step by step. Then middle, we apply sutures there to make sure that it is closed. You saw when we were trying to pass the rope. The catheter was a bit difficult. Then we dilated the urethra to  pass a catheter."
Idris further stressed the need to build more capacity in fistula surgery as centres across the country are seeing increase in cases of iatrogenic fistula mostly due to mismanaged Ceasarean Sections.
"Like some centres when we operate on 30 patients, over 20 will be iatrogenic. It is also common in the northern part of the country. We have to make sure that SOGON, our lecturers in the universities ensure adequate training for upcoming doctors. Early marriage is one of the predisposing factors but not a direct cause. The slogan people are teaching it is not correct because you will see a woman who has delivered 11 times on the 12th delivery she will develop fistula. Any lady at any age if there is issue will develop fistula."
Patients speak Experiences
Good Health Weekly spoke to two of the 23 beneficiaries from the pool efforts sponsored by Engender Health through USAID FistulaCare Plus Project.  Their joy knew no bounds.
"I have had this condition for nine years," said Mrs. Rabiu Mutaha, 35. Rabiu told Good Health Weekly that she has given birth to five children, while four survived, one died as a result of Obstetric Fistula.
Rabiu who got married at the age of 17, said  the unfortunate incident happened when she gave birth to her second child.  Although she was initially repaired at the Mariam Abacha Women's Hospital, Sokoto, the repair was not successful.
One of the doctors at UDITH, who was part of the successful surgeries, Dr. Zaro, Boysungni, Senior Registrar/Gynaecologist in training, said the major problem with fistula incidence is the fact that most women don't deliver under supervision of skilled birth attendants.
Also narrating her experience, another beneficiary, Mrs. Fatimoh Umaru, who also married at 17 said: "Since 2015, I never knew the surgery was free until I heard about this pool effort.  They did for somebody in my village so when I heard that it was successful I decided to come. Fatimah said it took her time to also find solution as her parents were afraid of surgery.
Addressing mentees on the overview of Obstetric Fistula, Dr. Sadiya Nasir, traced risk factors of obstetric fistula to poverty, illiteracy, poor health seeking behavior of women; cultural and religious practices. She lamented that obstetric fistula could lead to depression. Nasir advised women to go for antenatal clinics and embrace hospital delivery under a skilled birth attendant.