President Yoweri Museveni of Uganda on Friday declined to sign a bill into law which allows Genetically Modified Organisms (GMO) into the country, a parliament spokesperson said.
Chris Obore, spokesperson of the Ugandan parliament, told Xinhua by telephone on Friday that Museveni has returned the National Biotechnology and Biosafety Bill 2017 to the speaker of parliament, Rebecca Kadaga, for lawmakers to make reviews and amendments.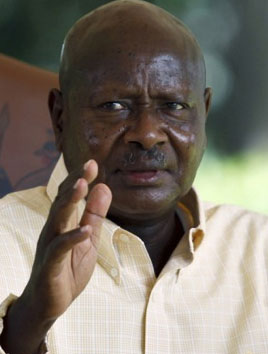 In a letter to the speaker, Museveni said the use of the GMO crops will contaminate the indigenous ones which Ugandan farmers have developed for years.
"This law apparently talks of giving monopoly of patent rights to its adder and forgets about the communities that developed original material.
"This is wrong," Museveni said.
"To be on the safe side, GMO seeds should never be randomly mixed with our indigenous seeds just in case they turn out to have a problem," he said.
The constitution of the East African country empowers the president to approve the bill, or return it to the parliament for reconsideration and notify the parliament speaker in writing of the refusal.
The law passed by lawmakers in October provided a regulatory framework that would facilitate the safe development and application of biotechnology, research, development and release of GMOs.
It also established institutions that would regulate and promote the usage of biotechnology in a bid to modernize agriculture and environmental protection, as well as enhance public health and industrialisation.
After the parliament passed the bill in October, Elioda Tumwesigye, minister of science, technology and innovation, told reporters it was critical that the country enacted a biosafety law to protect its borders from unauthorized entry of GMOs and to protect the public from consuming unsafe biotechnology products.
He said the move could also support scientists to fully and safely utilise their advanced knowledge and capabilities in biotechnology to help solve contemporary challenges especially in health, agriculture, industry and environment.
A parliamentary committee that scrutinised the bill before it was passed argued that GMOs have been used in Uganda with no enabling law.
There is a heated debate globally over the use of GMOs, with proponents arguing that those organisms have the potential to boost food, fuel and fiber production, which will accelerate economic growth and foreign exchange earnings.
Opponents of the law argue that since the technology comes from developed countries, there are varied interests which may be veiled with ill intentions.
Scientists argue that the enactment of the law now paves the way for extending their trials to the field instead of being limited to working within their institutions' boundaries.