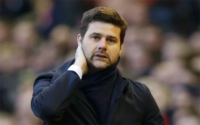 Pochettino
Mauricio Pochettino reflected with satisfaction on Tottenham Hotspur's 2-0 win over Brighton and Hove Albion despite the slightly fortunate nature of his side's goals.
Serge Aurier's freakish first goal for Tottenham after 40 minutes broke the deadlock at Wembley on Wednesday, his cross going straight into the net to break Brighton's dogged resistance.
A deflected header by Son Heung-min three minutes from time sealed three points that took the London club into fourth place in the Premier League at the expense of Liverpool, who drew 0-0 at home to West Bromwich Albion.
Pochettino will head to Premier League leaders Manchester City in an optimistic mood, saying: "I am a positive person. I am happy we won and the three points are so important for us.
"What is going to happen on Saturday? Who knows? I am going to Manchester to try to win and thinking that we can win.
"We have had three victories in a row — one in the Champions League, two in the Premier League — and it's important for us to feel we can get higher in the table because the season is still so long.
"You start to lose when you start to think in a negative way. We are going to enjoy it because it's a fantastic challenge to play against Manchester City.
"We are going to play against, I think this year, the best team in England and one of the best teams in Europe.
"I want it to excite the players. I want to play against teams with managers like (Pep) Guardiola who are the best. I am so excited, so motivated, so happy that we are playing a team that is the best."
The only negative note struck by Pochettino came when he was asked whether Dele Alli had been unhappy to start on the bench.
"Come on," said the Spurs manager. "With Tottenham it's a specialism to create problems.
"He was on the bench and played 20 minutes. How would any player react? Sure, no-one is happy to be on the bench. That is football. Better to talk about Son deserving to score. He's happy."
– 'Two poor goals' –
Pochettino welcomed the performance of Erik Lamela on his first start since October 2016 following two operations on a troublesome hip, but admitted fortune had been with his side in Aurier's goal.
"Yes, of course, (the luck) helped a lot," said the Argentinian, whose side trail third-place Chelsea by four points.
"When the opponent is so deep and plays only to defend, it's not easy. The team created a lot of chances and deserved to score before (Aurier's goal), but that's football.
"We fought hard and I'm very happy with the victory and the performance generally was good."
Promoted Brighton defended resolutely, but never seriously looked like avoiding defeat after going behind.
"You know it's going to be a difficult evening and you know you're going to have to defend well, but we conceded two poor goals," said Chris Hughton, the Brighton manager and former Tottenham defender.
Brighton have taken only one point from their past five matches and are now only three points above the relegation places.
"We went through a really good period and we're now in a difficult one, but we have to accept that that can happen and was always going to at some point," Hughton said.
"What defines you is how you come through that. It's a disappointed changing room, which is good to see, but it's my job to channel that positively."