Motorists now pay between N500 and N1000 to petrol station attendants before they are allowed to fill their car tanks at some stations in Chanchaga and Bosso local government areas of Niger.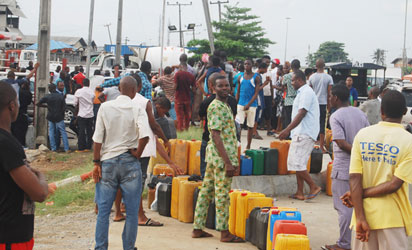 Newsmen who monitored situation and sale of fuel on Wednesday, reports that apart from cost of product, petrol station attendants demand between N500 and N1,000 to fill the tank of motorists.
A motorist, Hajiya Rabi Abdullahi in Bosso, told newsmen that she had to pay extra N1,000 to petrol attendant to fill her car tank.
She said "Ì feel it is better for me to pay extra to buy petrol at filling station
than buy from `black marketers' where I am not sure of the quality of the product."
Malam Bashir Isa of Maitumbi village said after spending the night at petrol station, he was able to buy the product after paying extra N500 to the attendant to fill his tank.
He added that "this is pure sabotage because the product is available in most filling stations across the state but marketers are just exploiting us."
He called on Federal Government to take drastic measures against any marketer found hoarding product.
Mr Ahmed Ibrahim, a commercial driver at Abdulsalam Motor Park in Minna told newsmen that "black marketers" had taken over most filling stations.
He said "all the petrol attendants have their agents selling products at strategic locations in and outside the metropolis."
He called for the setting up of Mobile Courts to arrest and identify the source of the black marketers' supply and deal with them accordingly.
He said petrol was now being sold at between N130 and N160 per litre in Minna,
depending on the location of the station.
Newsmen report that the petrol queues, which reappeared on Dec. 4, are becoming unbearable for motorists in the state.
Some of the filling stations operated by Independent Petroleum Marketers Association of Nigeria (IPMAN) had increased their pump price from N150 to N160 per litre.
At the NNPC Mega Stations and other filling stations by major marketers, the queues were longer, as they maintained the official price of N145 per litre.
A four-litre gallon of the product in the black market cost N1,300 in Minna town as transport fare had also increased due to the scarcity of product.
The Nigeria Security and Civil Defence Corps (NSCDC)  Niger command had set up a task force to monitor the sale and distribution of petroleum products in the state.
The 10-man task force was headed by ASP Peter Doma and Alhaji Abdullahi Jankara of the DPR Minna office.
The task force was given the responsibility of ensuring normal distribution and sale of product at controlled price.
NAN