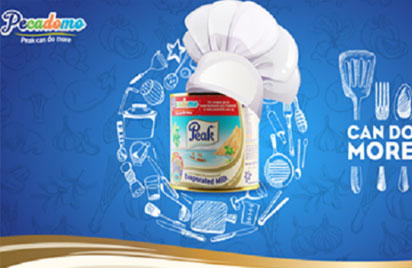 Milk
By Elizabeth Uwandu
Perhaps, Peak's strongest asset is its quality and pedigree, and the brand knows. So, anytime it intends to throw a technical jab on competition, it reminds them that 'I have it, and you don't'. This exactly is what Peak did at the launch of its recent campaign, "generation to generation", indirectly bidding knee-jerk marketing a goodbye for good.
"No brand in the category gets any close to this historical record", says Sunday Ogunniyi, a market analyst and communications expert. "This is just one of the unique properties that could be enjoyed by the Peak brand alone," he added.
Peak Milk berthed in Nigeria in 1958, and has since then been catering for the nutritional needs of the consumers across different generations. Part of the pedigree is the 'all-round first' the brand has always enjoyed; the first mover advantage when it became the first dairy brand in the country, the first dairy brand to be fortified with 28 vitamins and minerals; and the first to be extra-fortified for stronger bodies and sharper minds. And for over 60 years, the brand has been consistent in content and quality, justifying its description as "rich & creamy".
Peak has also transformed itself to a strong cultural brand, appealing to different people across different socio-cultural groups. It is known as'Milki Olope' by the Yorubas in the West and 'Madara n'kwakwa' by the Northern Hausas. The consumers also see the brand elements as symbolic and essential differentiator, which has built enduring emotional connections between the consumers and the brand across the country.
The Peak logo represents a symbol of success, the premium nature of the brand and an active personality that can be depended upon. The overlaying blue sky depicts hope, calmness and healing,which underscores the harmless nature of milk.
The palm tree is a symbol of nutrition and growth. The multiple trees of different sizes with lush green leaves represent family with siblings across generations; while mountain symbolize performance and the ultimate top position which is in perpetual alliance with the name of the brand and aspiration of the consumers.
All these brand elements have been carefully etched out and nurtured from the inception of the brand, and now drawn out and creatively deployed in the new campaign. The campaign once again displays Peak reaffirming its leadership position in the dairy market; and winning big applause for the Peak brand.