By Emmanuel Ayungbe
UYO – A leading Contender from the South-South extraction for the PDP National Chairmanship position in the forthcoming Saturday's National Convention of the Peoples Democratic Party(PDP), Chief Raymond Dokpesi has attributed the party's lose in the 2015 President Election to the arrogance of the leaders of the Party.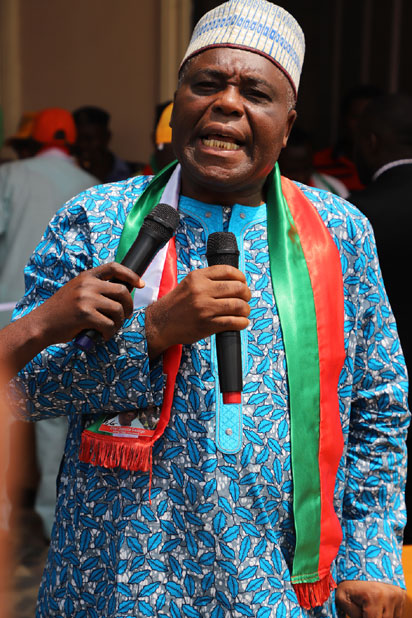 Dokpesi who was addressing Akwa Ibom State party delegated to the National Convention, Monday, said the party made costly mistakes in the past by allowing arrogant leaders to lead the Party at the National Level.
Dokpesi lamented that, "today the Party which we all boasted to be in power for 50 years is now in the minority at all level of Governance in the Country.
"We are now in the minority in Senate, minority in the House of Representative even in Governor's Forum, we are in the minority.
"The Party crashed because our leaders became so proud, they felt they didn't need the people but that it is the people need the leaders so we crashed out".
While citing impunity as one the sins of the former Leaders of the party, Dokpesi said there was also a disconnect between the people and the Party which eventually lead to disintegration.
He said the Party needs rebranding which he pledged to carry out, adding in the process of rebranding we shouldn't be sentimental.
Dokpesi insisting it was time the South South region of the count produce the Party's National Chairman, said "in the South South, Uche Secondu is aspiring along side my good self , agreed ,Secondu has experience but has unproductive experience which cannot lead the Party at the National Level to any success.
"When he was the Interim National Chairman, the Party lost most of its member because of monetization policy of his political system in the Party at all levels.
Responding, the former Governor of Akwa Ibom State, Otuekong Idongesit Nkanga, he was speaking as a political leader of the PDP and member of PANDEF, said there was need to support a credible candidate from the South South region. We Must not be allowed the party to die, "in the South South we have no other Party other than the PDP, we have no alternative to PDP, it is our regional Party".