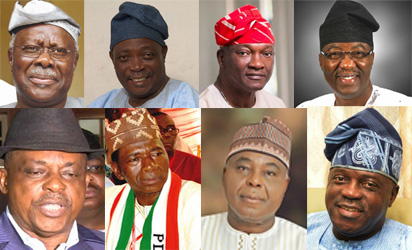 From top left: Olabode George, Rashidi Ladoja, . Jimi Agbaje, Gbenga Daniel, Uche Secondus,Tunde Adeniran, Raymond Dokpesi and Toaheed Adedoja
…Warns against 'sale' of chairmanship position
By Dirisu Yakubu
ABUJA – Former Military President General Ibrahim Badamasi Babangida (retd), has enjoined delegates to this Saturday Peoples Democratic Party (PDP) to elect a man of competence as the next chairman of the party.
IBB as he is fondly known also called on the national delegates to the conference to go for a man with the initiatives to turn the fortunes of the party for good ahead of the 2019 general elections.
In a press statement issued by his media aide, Prince Kassim Afegbua, the retired General said from available information before him, the chairmanship is likely to go the highest bidder, if nothing was done to checkmate the development.
"At this point of our political history as a party, we need a national chairman who is driven by uncommon initiatives, creativity in ideas and a rich content of character to lead and stabilize the party in line with the laudable ideals of the founding fathers of the party.
"Such an individual must possess national recognition to be able to galvanize political opportunities and transform them into tangible outcomes in our democratic engagements.
"When we were conceptualizing the idea of the PDP at formation, we had in mind a party that offers platform for all Nigerians in their pursuit of legitimate political aspirations. The choice of her motto; 'Power to the people,' was in sync with our clear objective of recognizing the people as the repository of power. In any democratic engagement, the people decide the outcome of elections through popular and inclusive participation," the statement read in part.
He argued that "The monetization of our electoral process is disturbingly eroding that power which should ordinarily reside in the people. In the last few days, I get frightened by the monetary consideration that is likely to dictate who emerges as the national chairman of our great party rather than what the people truly want," adding that "The discussion is more on the side of heavy monetization of the process and ultimate 'procurement' of the position of the chairman by the highest bidder.
"This approach, in my humble view, defeats the whole essence of participation, free choice and voting which are the essential attributes of any democracy without inducement and outright manipulation. I wish to plead that we tread on the path of caution and common sense, conscious of our recent history of avoidable political crisis."
On the evil of monetized politics, IBB stated:
"Rather than de-monetize the electoral process to provide ample room for more citizens' participation, the idea of monetizing the process and trying to "procure" party positions defeats merit, offends good conscience and blurs fair play. At this critical stage of our political secretions, we need men of stature, discipline, character and commendable conduct to breathe fresh air into our party and not persons whose political relevance is the product of naira and kobo bargain across the counter."