No intention to rename street—Okorocha
OWERRI—IMO State Government has bowed to the superior force of the Catholic Church and has restored Assumpta Avenue street name.
The government action came barely a few hours after Vanguard hit the news stand with growing tension generated by what some respondents called "the unwholesome renaming of Assumpta Avenue to Muhammadu Buhari Road."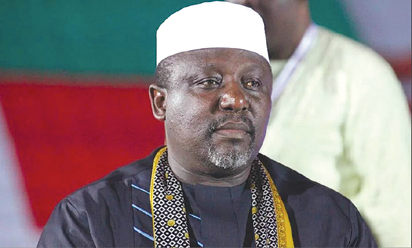 Confirming the restoration of the street name, the Commissioner for Information, Professor Nnamdi Obiaraeri, said it was never government's intention to rename the road, which spans from Assumpta Cathedral and terminates at Warehouse Roundabout.
"Assumpta Avenue is symbolic for both religious and historic reasons in Imo State, and these facts are not lost on the government and people of Imo State. All inconveniences occasioned by the initial oversight or error of wrongly installing a street sign, suggesting a renaming of the street is highly regretted," Obiaraeri said.
In his own reaction, the Catholic Archbishop of Owerri Ecclesiastical Province, His Grace, Dr. Anthony J. V. Obinna, said there was no need to celebrate the restoration of the street name by  Governor Rochas Okorocha.
"Catholics were already putting heads together to face the unwarranted and most uncharitable frontal attack on the Church, when he retraced his locus. His misdeed had already reached the ends of the earth before he did the needful," Archbishop Obinna said.
The cleric wondered why Okorocha wanted to destroy everything that predated his administration, including Assumpta Avenue.
Similarly, the Chief Press Secretary to the governor, Mr. Sam Onwuemeodo yesterday denied that there was ever a time the governor replaced  Assumpta Avenue Road with President Muhammadu Buhari's name.
The governor also boasted that he would continue to do whatever he  wishes in the state, irrespective of the backlashes.
According to the release, "For the umpteenth time, we have subtly told our audience that the opposition to Governor Rochas Okorocha's administration in Imo only exists on the social media. This is the fact. The social media has become their own tool and they have been doing it unwisely, ungodly and unintelligently.
"The latest of their balderdash was the claim that the government has changed Maria Assumpta Avenue to Muhammadu Buhari road, for which they, as usual, claimed that Owerri was boiling.
"And our only concern is that some people who should know better and detach falsehood from the truth at times fail to do this. And that is the reason we are now responding. Otherwise, we cannot be spending our God-given time responding to frivolities.
"The truth is that Muhammadu Buhari Road begins from Government House Roundabout and ends at the popular Orlu Road Roundabout. Maria Assumpta  Avenue begins at Control Post Roundabout and stops at Warehouse Roundabout. The indications are all there boldly written for all to see.