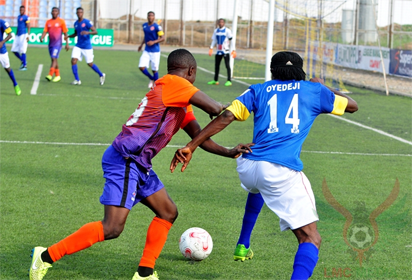 Adeniyi Alaba of Sunshine Stars challenges Oyedeji Samuel of ABS. NPFL photo
The Ondo State Government will sensitise the state's football fans to the need to be of good behaviour during the upcoming 2017/2018 Nigeria Professional Football League (NPFL) season.
The state's Commissioner for Youths and Sports Development, Saka Yusuf-Ogunleye, disclosed this on Thursday during a courtesy visit in Akure.
Yusuf-Ogunleye said the sensitisation became important because of the problems faced by the state-owned NPFL side Sunshine Stars Football Club of Akure each time they were punished in the past.
He added that the effect of such development on economic activities in the state had also been grave whenever it occurred.
The commissioner said issues of unruly behaviour of fans of the club would therefore be addressed during the sensitisation programme.
"We are aware of the fact that our home matches were played in Ijebu-Ode in Ogun because of the unruly behaviour of our supporters and fans before we came on board.
"Now that we (the new administration in the state) have come, we must sensitise the supporters and fans to the situation and how to prevent a recurrence.
"We will send messages to them to ensure that we keep peace, because we are known as peace-loving people.
"There is a negative economic effect and there is a risk of travelling out to play our matches which are supposed to be played at home," he said.
Yusuf-Ogunleye then praised the efforts of the agency in reporting the activities of government in the state.
"We are partnering with the media so that they can help us to pass messages to our fans and supporters," he said.
The commissioner pointed out that when the current administration came on board in the state, Sunshine Stars were in the 19th position.
"But the team finished 10th with the help of the governor, and this is an example of the administration's commitment to sports,'' he said.
Yusuf-Ogunleye added that the current administration was ready to help in ensuring that the Ondo State Football Agency fulfilled its mandate by developing players from Rising Stars to Sunshine Stars.
"Sunshine Stars is ready and prepared for the coming season. We are determined to go to the grassroots and develop sports, not only football, but sports generally," he said.