By Gabriel Enogholase
BENIN—EDO State governor, Mr Godwin Obaseki, yesterday, warned that he cannot be intimidated by pensioners in the state over the non-payment of their arrears which now stands at 42 months.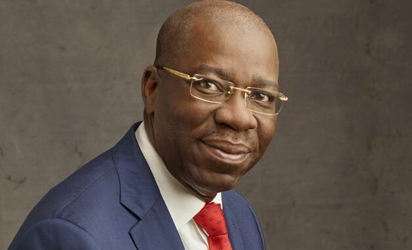 The governor's warning is coming on the heels of disagreement between him and the aggrieved pensioners over the use of the Paris Club refund received by the state.
Obaseki, who spoke at the annual ceremony to mark the National Pensioners' Day, informed the pensioners at the event that he understood their plight more than any other governor in the country.
He also disclosed that he was part of the presidential committee on pension reforms whose recommendations led to the formation of the pension commission.
Obaseki, who was unhappy with the interruption by some angry pensioners, said: "Nobody is going to threaten me. I will tell you the truth as it is. Even today, from that Paris refund, I am taking more to pay.
"Did we get Paris refund last month? Did we get Paris refund two months ago? I am not taking money to settle the arrears. If they paid anybody to come and disrupt us, by the grace of God, those people will not succeed.
"The Paris Club (refund) is divided between the state and local governments. In the case of this state, from N10  billion, we reduced the arrears to three point something billion (naira). That we did."
The governor, however,  lamented the accumulation of  pension arrears between 1996 and 2010 due to the non-payment of pensioners and the alleged inaction of the union.
He, however, said that the state government had paid over N3 billion out of the N10 billion from the backlog. Obaseki said that his administration halted the indiscriminate collection of levies in the local governments to boost revenues for them to pay their pensioners.
He also explained that part of the Paris Club refunds was used reduce the pension arrears.
Earlier, state Chairman of the NUP, Mr. Pulley Enoruwa, appealed to the state government to increase the monthly allocation for the payment of pension arrears from N100 million  to N1 billion.
According to him, though the state was faced with economic challenges, it was difficult for the union to convince its members to be patient in view of on the current economic reality in the country.