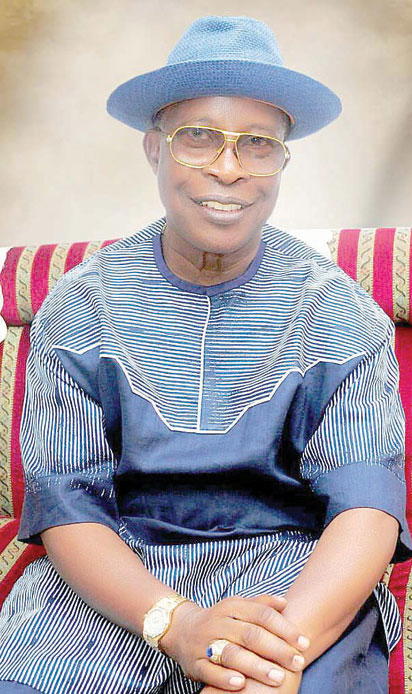 Rear Admiral Onah
By wale akinola
…Says Okowa close to achieving the 'Delta without oil' agenda
Rear Admiral Mike Onah retired as Chief of Naval Accounts and Chairman of Military Pension Board. Since his retirement, Onah has joined forces with people of like-minds to move Nigeria forward. The National President of Ndokwa Leaders Political Forum, in this interview, speaks on issues concerning his native state of Delta and Nigeria.
How has Anioma people fared under the present political dispensation, or let's even say since 1999?
Anioma people are not faring badly. When you want to discuss Anioma people in relation to other groups in Delta State, you cannot treat Anioma in isolation of what is going on generally. In Delta, it is an Anioma man that is in the saddle now as the state governor.
But in the past, we've had governors from other ethnic groups. In the last two and a half years, we now have our own man as governor in the person of Senator Ifeanyi Okowa.
But he took over at a time when federal allocation has gone down. So, the state is not as buoyant as it used to be. However, I must give kudos to Okowa for living up to expectation. He is doing his very best for the state within the limits of the resources. A lot of roads are being rehabilitated while new other ones are under construction. Same goes for schools and health institutions. I hope he get a second term in order to consolidate on his current achievements.
Which areas would you like him to accord top priority?
Power sector should get a special attention. One of the greatest challenges facing the country today is poor power supply. No nation can develop without power. People are crying 'no work, no money' just because there are no factories, no industries. But even if you have to set up factories or industries that generate mass employment, the environment must be conducive.
With steady power supply, prices of commodities will be cheap and our industries will operate at maximum capacity. Even if you have the idea of running a small scale industry, the fact that there is no steady power supply will kill the idea. So I will like Okowa and the Federal Government to give special attention to power sector.
What is your take on the book about prominent Anioma indigenes and their achievements, which the author claimed is to inspire and motivate Anioma youths?
Most of the things happening today to our youths are due to circumstances beyond their control. There are a lot of bad influences on youths not only in Delta State or Nigeria but indeed everywhere you go. Some of all these negative influences are from the Internet. So you see that children are not totally under the control of their parents, because when they go to school they associate with their peers including the corrupted ones.
What parents can do, given this state of affairs is to stand firm and straight. They should try as much as they can to ensure that they monitor the influences on their children. Second, you talked about their will and determination.
I am sure they have the will and determination, provided we the elders play the role of weaning them off bad influences and that is by paying closer attention to their welfare. Children need close guidance, because no parent will like to see his or her children become social outcasts or miscreants. The book is a good one. It is a project that has my support.
Do you think the book will have the desired impact on Anioma youths?
No doubt, it will create a very good influence on the youths. You hear young people say they want to be like J.J. Okocha (prominent footballer). They want to be like Kanu Nwankwo (another prominent footballer). This means that older ones who have shown successes in their disciplines or professions have become role models for young people.
So this book will go a long way to influence the young ones. When we talk about development, we are not only speaking of physical development; we are also talking about mind development. There is also spiritual development. No careless man; no undisciplined man can really amount to much in life. So this collective biography will help to mould the character of our young people.
Are Anioma indigenes who are successful and already have breakthroughs giving back to the people, that is, helping others?
I cannot say they are doing enough. Some of them are very selfish. Unfortunately not everyone is disposed to being of help. But that has to do with individuals. There are some people who have everything but are unfriendly, unsociable. They hardly interact. But there are others, who have made themselves open and accessible to members of their communities.
To what extent did your training and career in the military prepare you for life's challenges?
In the military, you pass through physical and mental challenges. Some of the courses you attend when you are in the military prepare you for different forms of life challenges. Some of the courses put you under very heavy pressure to see if you can be bent and broken.
Some like the ones in the Command and Staff College, the Nigerian Institute of Policy and Strategic Studies (NIPSS) prepare you for leadership. Overall, the military is a very sound platform and any person who follows the principles which the military imbues one with will somehow end up living, at the very least, a comfortable life.
As a leader and an elder of the Ndokwa nation, what do you think should be the role of traditional institutions in shaping the younger generation?
Today, all of us revere Jesus Christ, but we forget that our reverence for him is not because he was wealthy or because he   had billions of pounds in his bank account. Rather, the world reverences and worships him for his sacrifice. He lived and epitomised the ideal of a sacrificial life. Those people who had wealth, property, etc during the life time of Christ, who know them today? When they died, their names died with them. So, greed is a problem.
Many young people are anxious to become billionaires in a hurry. Some of the traditional rulers are also very anxious to make money. Today, you see traditional rulers giving chieftaincy titles to people with questionable sources of wealth. They beg people to come and take chieftaincy titles especially when they have money. But our children are watching and copying these things.
We are feeding them with the idea that it is money that the traditional institution in their community respects and recognises. When you call unworthy characters and give them titles because they have made money, without ascertaining whether their sources of wealth, this encourages others to take to crime.
You are encouraging kidnapping for ransom. So, my advice to the traditional institution is that before you give people chieftaincy titles, know the genuineness of their sources of wealth. These days, you find armed robbers, once they hammer, as they say, you see them returning to their communities to make noise. They go to hotels to waste the money. And then people will go to town saying 'these people have arrived'.
So, our traditional rulers must learn to despise members of their communities who come to show off ill-gotten wealth. They must also not be corupt. A situation where you see the truth but because somebody has cornered you behind the curtain and given you money, tghen you go to the public and you pervert the cause of justice, is really bad. Young people are watching; they are learning; and such things are influencing their characters.
The campaign for true federalism has refused to go because of the inherent benefits for the nation. Meanwhile some people are afraid of it because they benefit from the current status quo.
People are afraid of true federalism because they think that, without federal allocation, some of the states cannot survive, which is not true. It has made many states not to look inwards. Delta State government is not like them as it has done a lot in regard to diversification.
The state is paying a lot attention to agriculture. Now, in every local government, the state government has established farms. They are giving loans to farmers and training farmers in latest techniques in modern farming. Money is being invested in providing training centres, infrastructure, equipment like tractors and other things which farmers can readily access, all in the bid to diversify the state's economy.
There is no alternative to agriculture, because that is what can quickly change both the personal economy of the average Deltan and that of the state as a whole. Indeed Okowa administration has concentrated on agriculture to the delight of all well-meaning indigenes of the state.
For example, in my part of Delta State, Anioma or Delta North, the governor has established large farmlands for large-scale farming of rice. Most of the efforts of the Okowa government are actually geared towards self-sufficiency in agriculture. This strategy, if sustained over time, will make Anioma to lead the way to make Delta actualise its "beyond oil" agenda.
Delta State is envied for having produced many accomplished persons in business, banking, academics among others. What factors can you identify as accounting for this salutary trend?
Naturally, Anioma people are very industrious. We are highly focused people. But the problem we have is the lack of a conducive environment for us to showcase our potentialities in terms of professionalim, otherwise, by nature, we have the skills and determination to succeed. Schools like Saint Thomas' College Ibusa helped a lot in contributing to the success of Anioma people.
In those days it was one of the best. People that passed through that school were seen as ambitious to become something in life. I passed through the school too. That is one of the propelling factors that had produced a number of prominent Anioma personages. Every house in Anioma is so invested in seeing his son or daughter become something.