Vanguard spoke with the Catholic Archbishop of Abuja, John Cardinal Onaiyekan on the fallout of the illegal migration by youths to Libya, the dangerous travel by sea through the Mediterranean sea to Europe, and the slave trade in Libya. Excerpts.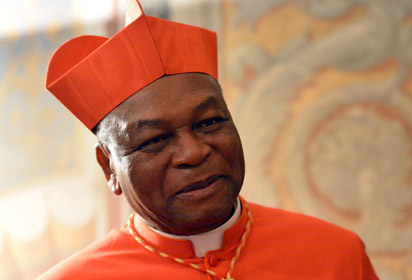 By Victoria Ojeme
WHAT advice do you have for the youths?
First of all they should not give up hope, should be courageous, be patient and recognise the importance of hard work. They should refuse to be tempted by those who are succeeding by cutting corners and taking short cuts because this is what is destroying our nation. Especially we want them not to think that by running away from this country, they are going to meet a paradise somewhere else.
Thank God in these days we are talking about trafficking and why it is not wise for people to undergo these adventures. You say Nigeria is difficult and you enter the desert and you end up being put on sale like cattle and that has been happening for many years. It is only that now CNN brought it out publicly and everybody is now talking as if they never knew. Our people have been transacting in slaves and worse of all they have enslaved themselves.
Situation of the women
During the 16th century slave trade to America, it was the slave traders who came to carry people away but nowadays we carry ourselves away to be enslaved, isn't that terrible? Boys, girls and young men and women. Of course we know the situation of the women, they are more vulnerable and more abused than the young men.
So I think the message of patience and hard work we need to preach it more and more to the youth. I don't blame them, because they see all kinds of crooked people making it fast and they think everybody can do so. Wealth that is made fast is generally at the expense of someone else and, therefore, doesn't last. So they should be patient, be ready to gradually build up themselves and I think our government should encourage them.
 On the issue of slavery, what advice do you have for government on this issue?
First of all government should stop being quiet about it; Nigerians are beign put on sale in the markets of Libya and we keep quiet. Do that to America and you will hear, Trump will come out clearly and tell them to stop it. But of course since we have nothing for our young people here in Nigeria, when they carry themselves out on slavery, our government does nothing because we have nothing to offer them, it is a shame.
Abike Dabiri can shout as much as she likes but this is not a matter for a special assistant to the President, it is a matter for Mr. President himself to handle and save our country from this shame. This is because any time they mention Africans drowning in the Mediterranean Sea or being sold in the markets of Libya, of lining the streets of Milan as prostitutes, they are always calling the name of Nigeria.
I go out often and I am ashamed, whenever I hear them talking like that. I try not to even talk because they are talking about my brothers and sisters. There are faults on both sides.
First the young people who are too anxious, they are in a hurry to make it and think that once they get to Europe, in one year they will become rich men. It is not true. Let them know that there is no alternative to honest hard work or the only alternative to honest hard work is doing things badly. When a young man is ready to work hard, the environment should be such that he can succeed to some extent and this is where government comes in.
On the issue of xenophobic attacks where they have been killing Nigerians in South Africa, what advice do you have on this?
To many things there are many sides to a story. As a Nigerian I would want our country to make sure they find out what exactly our country men are doing there. Are they just there doing good business, doing nothing that deserves bad treatments or are there many Nigerians there who are giving cause for the country there to maltreat us.
When you find Nigerians dying in the midst of criminal gangs, do you blame them or do we blame ourselves, after all the same criminal gangs are killing themselves right here in Nigeria. The story of the last killing in Ozubulu in Anambra State, is just the tip of the iceberg. It shows us that out there in South Africa Nigerians are doing certain things of which we should be ashamed.
The government cannot fold its hand and allow our country men to be maltreated; at least we should insist that justice be done even to the criminal. They deserve justice too. And of course those who are killed, proper investigations should be done to find out who killed who. Again put this in the context of the situation in South Africa, as you know killing is going on there every day not only of Nigerians but also of their own countrymen. So we are only part of a bigger picture.