By Rotimi Ojomoyela
Ado-Ekiti—NATIONAL Chairman of the Peoples Democratic Party, PDP, Prince Uche Secondus, yesterday, declared that the PDP under his watch will maintain zero tolerance to imposition, saying open primaries will be conducted by the party in every stage of elections in Nigeria.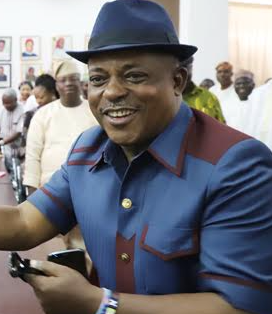 This came as the All Progressives Congress, APC, in Ekiti State said it will not participate in Saturday's local government election in the state alleging that the State Independent Electoral Commission, SIEC, has been compromised
Secondus, who spoke in Ado Ekiti during a rally organised by the party for the presentation of party flags to chairmanship and councillorship candidates of the party ahead of Saturday's council election in the state, said the party under his watch will not subscribe to imposition.
He said the new leadership of the party under him at the national level will return power to members at the grassroots to determine their fate and elect or choose their representatives without  hindrance.
Secondus said primaries preceding every election, shall henceforth be closely monitored by credible party officials to be deployed from the national headquarters.
He, however, noted that once such a televised  primary had been held and members freely choose who to fly the flag of the party, the national secretariat of the party will not be liable to entertaining complaints or protests from aggrieved persons.
Governor Ayodele  Fayose, expressed gratitude to Secondus and his team for making Ekiti state local government election, their first public assignment after emerging as new party leaders.
Why we won't participate in LG poll — Ekiti APC
Meanwhile, the APC in a statement by the Publicity Secretary, Taiwo Olatunbosun, said it will boycott the election because of what it described as a "misnomer, undemocratic and compromised election from the beginning."
The statement reads: "The compromised State Independent Electoral Commission, SIEC, is composed of members who are card-carrying members of the  PDP, with a mandate to endorse and implement the decisions and directives of Governor Fayose and his party.
"No democratic institution or political party worth its salt will waste its resources and time to participate in a compromised election and under an administration as exemplified by Fayose.
"We won't join this charade because if they could do that to members of their party, then it is instructive for us as an opposition party to know we cannot have a free, fair and credible election, particularly under a caged, compromised and biased umpire."