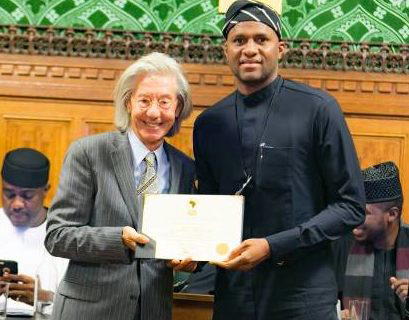 A British Labour Member of Parliament, Diane Abbott to Dr Chima Anyaso
A Nigerian, Dr Chima Anyaso has been conferred with the Forbes rated Africa Achievers Awards for his outstanding service to humanity.
The award was hosted by renowned British Labour Party politician, Diane Abbott at the United Kingdom House of Parliament.
Anyaso, Chief Executive Officer of Ceecon Energy Oil and Gas Limited, was awarded with the Community Impact Award for his selfless service to communities and individuals, according to a statement issued in Abuja by his media office.
The award event, according to the statement, was hosted in London by a renowned British Labour Member of Parliament, Diane Abbott at the United Kingdom House of Parliament.
According to the office, the award is meant to recognise outstanding Africans who had over the years distinguished themselves in making significant contributions to communities through voluntary service and life changing community impact initiatives.
The African Achievers Awards is an annual awards event, which recognises the efforts and contributions of individuals and organisations to the economic and social progress of the African continent.
The achievers are selected in the categories of Community development, Leadership, Arts and Culture, Business and Entrepreneurship, Agriculture, Community Service, Rural Development and Education.
"The Community Impact Award under which category Anyaso was awarded is a coveted award category only reserved for individuals who have made significant selfless contributions to communities.
"It is for individuals who have shown commitment towards changing the lives of the less privileged in no small measures."
It noted that the most prestigious award for great Africans according to Forbes rating was presented to Anyaso in recognition of his numerous life changing initiatives.
They are: "Life changing initiatives towards poverty reduction, youth empowerment, girl child education and skill acquisitions programmes".
They also include: "Providing free education for less privileged children under the Ahuoma Anyaso Educational Foundation, a free school and free feeding arrangement for indigent children".
"He was also recognised for numerous cash and material donations he had made to orphanages, old people and the internally displaced people (IDP) in Nigeria."
Speaking after receiving the award, Anyaso pledged to continue to impact on lives, especially children and communities.
"I thank the organisers for this recognition.
"I can assure you that I will not relent in my commitment to better my country and to ensure every Nigerian child can have access to quality education."
It listed other notable recipients of the African Achievers award to include the Chairman of Sustainable Healthcare International, Dr Mike Otomosho; Managing Director of Aspire Education Group, Patricia Lamour; Dr Emmanuel Audu-Ohwavborua, and Julius Nkafu
Anyaso, a native of Igbere in Bende, Abia, is a businessman, philanthropist and managing director/chief executive officer of Ceecon Energy Oil and Gas Limited.
He was recently recognised with an Award at the 2017 Democracy Heroes Award in Abuja for his roles in promoting democratic values in Nigeria.
Anyaso was also a recipient of an Award of excellence as the most outstanding young entrepreneur that has contributed to the growth and development of Education in 2014 presented by Nigerian Professionals Forum in June 2015.