By SIMON EBEGBULEM, BENIN CITY
German born professor of psychiatry and neurology, and Vice President of the International Society of Differentiated Psychiatry, Ernst Josef Franzek, was in Nigeria, last week, to deliver a lecture at the Federal Psychiatric Hospital, Uselu, Benin City after which he visited the Psychiatry Department of the University of Benin Teaching Hospital (UBTH). In this interview with Sunday Vanguard afterwards, he regrets that Nigerians youths, Edo State youths in particular, are brainwashed into embarking on dangerous trips to Italy through Libya, describing it as a serious psychological problem borne out of desperation and idleness.
Excerpts: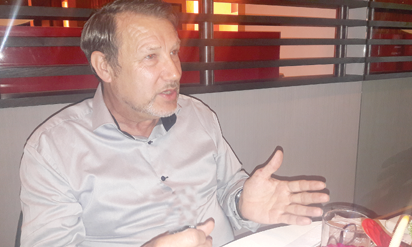 During the course of your lecture, you expressed worries over the modern day slavery witnessed in Libya and how it affects Edo and Delta states. How do you react to the entire situation?
Any form of asking something from people forcefully is slavery and any form of slavery is against humanity and it must not happen in the 21st century. Everybody must stand up and said 'no to slavery' because we must not go back to four hundred years ago. Those profiting from slavery should be brought to justice. In fact they should be charged at the World Court because this is not a local problem; it is an international problem that should be dealt with internationally. Whatever happens in Africa affects the entire world; we cannot say this is Libya, so Europeans or Americans should keep quiet. It affects all of us. In Nigeria, the population is growing and people are looking for where to get something to survive. And that is why we see these men and women trying to go to abroad to make a living. And this may lead to a catastrophe maybe in the next 20, 30 years' time if we don't stop it. It is a big problem that government and all stakeholders must come together to find solution to. State, local and federal governments have a role to play by creating an enabling environment for youths to remain here and be useful to the country. Nigeria is a beautiful country and must take the lead in ending what we are witnessing in Libya. Nigeria must galvanize other African countries to stop the trade currently going on before it gets out of hand.
Are you surprised that our youths still embark on dangerous trips despite the deaths recorded in Libya?
I am not surprised because they don't get the right information. They go there and have it in mind that they can make it. They put away the negative things and think positively. It is a kind of brainwash. It is like people being brainwashed at a very young age by religious fanatics. They will tell you that if you do something you will go to heaven and, when you get to heaven, there is milk and honey; everything is nice. And when they brainwash you, it starts to affect the psyche of people, especially when some persons have seen those who succeeded through that route. It is a psychological thing. Everybody must know what happens around the world. People must have access to the internet and they also have to read newspapers. Information is key; like in North Korea, their people don't get any information, they are oppressed and it is not good. What we need to do is to ensure that we sensitive the youths properly and let them know that they must do something than to sit down and receive. It is not only having talents but you have to work hard to develop those talents and that is what Nigerian youths must do. If you have talents and watch only TV every day, you will waste your talent. It is very clear that Nigerians are highly talented but they must explore the talents and bring them to fruition for the better of the society.
For instance, while I was going round the streets, I saw a lot of young people hanging; they should be in school reading. They should be in school and read for their future. They should develop themselves through education because, when they go to Europe in this condition, they sit in the bottom of the society. They lose more than they are supposed to get because they don't have a chance to develop because they don't have education. They can make some money and send to their families in Europe but this is not how it should be. I heard in interviews young men saying that it is better they die abroad than have no future in Nigeria. Yes, this is soldier-mentality and it is not good. And I am afraid that poverty has hardened some of these youths and that is dangerous. And that is why, like I said in my lecture, even the unborn child needs basic nutrients, good food, so that when the child is born, he will not suffer any defect. Unfortunately, some of these things are happening due to poor nutrition and good environment when growing. And that is why you see a young man or woman waking up and he decides to move to an unknown land despite the fact that Libya is a dangerous place to go. And that is the same way people will wake up and join a robbery gang or start something funny, that shows that there is something wrong from the beginning.   Every society must grow the middle class; everyone must have basic means of life. And that is what government should do for its citizens because what we are seeing today in Libya is a crime against God and humanity which is very bad.
You visited the psychiatry wards in UBTH and Uselu Psychiatric Hospital. What was your observation?
What I observed is what I expected. Mental health care is done here in special centres, it is good but it lacks manpower. This means there is good care but there is a gap somewhere. When people are treated, they have to go home and, when they are home, there is no follow up. This is not good for people with psychiatric disorders because it has the ability to come back. This vulnerability should have been focused on when the people go back to their families. So health care must have two ways. There must be chain of care. Mental health care has also been integrated into primary health care so that people don't feel shy to go for treatment and health care professionals should not be shy to take patients to specialized hospitals and do follow up. There must be a follow up where you show the patients love and care which hastens recovery. So I hope that those in charge of health sector in Nigeria will look at this area so that disregard of this aspect will not compound the problem of the patient.