Mr. Richard Burge is the Chief Executive of the Commonwealth Enterprise and Investment Council (CWEIC). He was in Nigeria recently as part of preparations towards next year's Commonwealth Heads of Government Meeting.
While in the country he also inaugurated the Council's new Country Head for Nigeria. In this interview, he spoke about benefits of CWEIC to Commonwealth member countries as well his optimism about the investment climate in Nigeria. Excerpts:
By Babajide Komolafe
WHAT do you think Nigeria can do to be more investor friendly?
I think the government still got to continue carrying on with promotional activities. But what we also got to recognize that what any government does when it is doing promotional activities is to simply talk about the investment environment. So, in the end, what all of us must do, including my organisation is that we have to be helping businesses find each other and actually talk about reality of doing businesses.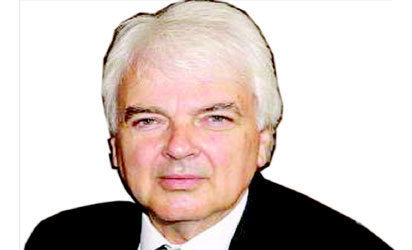 So, the government can set the stage, do nice video shows and other things about the lovely things in their countries. So in the end, it is businesses talking to each other. So, dialogue is very important.
Business discussion
Which is why I am pleased that Lagos State government is a member of our organisation because they know our job is to create business discussion and they can learn about how business is working. So, that is the generality. But particularly for Nigeria, I think it has got to do a number of things.
Firstly, it has to continue to recognise that there is still a prejudice out there about Nigeria. There is no point complaining about it, we just must change it. I know it is changing because when I was here in 1985 to 1990, this was a very different country. A huge transformation has taken place. So, I know that.
From my job, I have been telling people that this is a good place to do business. Nigerian businesses are always upfront and 'loud.' You hear from Kenyans that Nigerians are so loud. So, this is an exuberant business environment. Another thing Nigeria has to get right is barrier to trade and solve the corruption problem because majority of Nigerians want to do things the right way.
There is a huge middle-class in Nigeria and one of the largest communities of middle class in the world is in Nigeria. I think India has the largest middle-class community and Nigeria's proportion of middle class is growing which is good for business. It means that domestic capital is being raised. People save money, put money into pension and other diverse investments. This is an emerging economy that is moving rapidly towards industrialisation. And we think we need to get the right message about Nigeria out.
What is the role of the CWEIC?
I run this organisation and it has been on for about two and half years now and I became the chief executive about six months ago. The CWEIC has a very simple job. Its job is to help businesses across the Commonwealth nations to sell each other's products and promote investments. It's job is to help businesses understand how much easier it is to do business in Commonwealth nations as well as between a Commonwealth nation and outside nation. We think there are three big features around that. The first one is business English. Everyone in the commonwealth uses English to do business and the second thing that every country tries to enforce contract and we support that.
The third thing is that we tend to do things in very similar ways – the regulators, standard organisations and others, all tend to do things the same way. So, these are the three big things. There are other intangible things about the Commonwealth council. I have worked in 62 countries and when you are from a Commonwealth country and move to another Commonwealth country, you feel like you are at home because there is just something familiar about it.
For me, if you are a business, it is a huge advantage because it gives you an advantage, and it gives you confidence. In the end, all these reduce the transaction cost of doing business. There is a report that says that the cost of doing business among the Commonwealth nations has been 19 per cent less over the year. Emotionally, it is less costly and that translates to more fun while doing business. We started in London and we have just started to open hubs among the Commonwealth nations. We would be in every member country and in some countries, we may end up having more than one hub.
One of the first hubs we are having is Lagos that is for two reasons – this is one of the economic engines of the Commonwealth and obviously in Africa. The second thing is that as a person, I like Lagos. I know the place very well and I am a fan of Nigeria and Lagos. I do recognise that in other parts of the world, there are prejudicial barriers about doing business with Nigeria and doing business with Lagos and it is often perception. I think times have changed tremendously and we are going to work on that lingering perception by opening the hub in Lagos and getting senior business members to drive activities.
It is a good way of changing global perception about Nigeria. When people ask me what I find remarkable about Lagos, I say there is never a vacant shop and there is never a vacant store. This is a commonwealth great nation of traders.
That to me is stimulating. I am very keen especially   with Obinna Anyanwu as our country head here. Nigeria is the first and there are about four more to be opened in some other commonwealth countries. And I am very keen that when Obinna does work here in Lagos, I will be about the whole commonwealth and not just about Nigeria.
The Commonwealth Business forum comes up in April next year. This is a two-day event that is held   ahead of the Commonwealth Heads of Governments meeting. So, it is to hold in London. It is very important because it is probably the last one that the Queen would be attending because she would be 92 then and the next one after that of next year would be in Malaysia.
So, she is not going to be travelling that much. So, we are holding the forum in the city of London and there would be senior Nigerian businesses in attendance. Mrs. Folorunso Alakija has already said she will be in attendance and she will be speaking about women in business at the forum. We are also hoping to set up some other schemes to support businesses. There is a scheme that is running presently in UK called Commonwealth First, which is to support UK businesses.
I want to introduce the Commonwealth First Nigeria and we may find maybe up to 100 talented SMEs in Nigeria that are export ready and for them to be part of the scheme for over a three or four-year period. So, we are hoping to help new enterprises in Nigeria get access to market. Also, at the moment, we are working with sub-sovereigns.
These are entities that are below the national governments and two of them at the moment are Akwa Ibom and Lagos states. These states see us as a helpful venture and as a bridge between them and business and especially in helping them mobilise businesses.
Will you provide grants or other form of financial support to the SMEs you are talking about?
I think there may be some form of financial support as it is in some countries. Like Malaysia has various forms of support for small businesses. One of the things we need to try to understand is that there is a lot of money in the world at the moment looking for good investments. And what we have to do is to make sure that these young Commonwealth businesses get access and meet these people with the money that want to make those investments and make case for them. The other thing is that Africa has extraordinary financial resources. The domestic resource capital in Africa is huge and that is looking for new opportunities as well. So, we are very keen to try to mobilise these resources.
Commercial growth
We must not think about government funding because if it comes today and at the end of the day there is a change in government, such government funding disappears. We must not overlook the strength of private sector investment because it is not looking for political patronage, it is just looking for trade for commercial growth and that is what we must find ways of ensuring that interested innovative capital meet interested innovative propositions. If you put that together, you would see tremendous growth. One of the things I am here to do in Nigeria is talk to senior Nigerian business men.
Are there cases of companies in other countries your Council has assisted in accessing some of these global capitals you talked about?
There are, but do we have a case study, I will say no. That is because we are still a very young organisation. But we have examples of diaspora money in India that was invested in business ideas. So, over time, we would be putting together case studies that we can show people so that we can use that to evangelise. But I want to have some Nigerian examples.
Subscribe for latest Videos