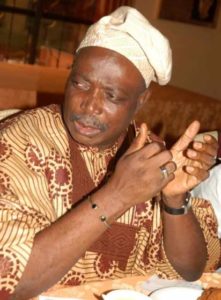 By Abdulwahab Abdulwahab
Guaranty Trust Bank (GTB), has prayed a Federal High Court, Lagos to refuse in granting a bond application filed before the court by a former governor of Oyo State, Rasheed Ladoja, as a security over his property, which the court had earlier granted a leave of protection to the receiver manager.

Justice Rilwan Aikawa, who presided over the case had on October 5, 2017, granted leave of protection to the receiver manager, Mr. Olamide Owolegbon, appointed by the GTB to take possession of a property belonging to Ladoja, pending the determination of a debt recovery suit filed against him and his company.
GTB in a bid to recover an alleged debt of N207, 150, 761. 46 million, had dragged Ladoja alongside his company, Hi-Nutrient International Limited before the court.
When the matter came up before the court, Ladoja's lawyer, Chief Bolaji Ayotunde (SAN), informed the court of Ladoja's application dated November 29, 201, praying the court to grant an order allowing Ladoja, to provide a security bond in favour of the Court's Chief Registrar in the sum of N207, 150, 761. 46 million in lieu of the alleged debt, pending the determination of the suit.
Ladoja also sought for an order directing GTB to vacate his property together with buildings and appurtenances thereon, situated at 57,Oscar Ibru way, Apapa, Lagos, as well as an order of interlocutory injunction, restraining the receiver/manager, Olumide Owolegbon, his agents, servants, privies, workmen, howsoever, from selling or disposing off the said property.
However, GTB lawyer, Temiloluwa Adamolekun, while urging the court to dismiss Ladoja's application, said the order that the defendants are seeking for is for court to upturned his earlier order made on October 5, 2017.
He contended that the suit is not one where bond can be issued as the reliefs sought by the bank are not to claim any money from the defendants and that the action is strictly for the court protection over Receiver /manager appointed by the bank.
Adamolekun told the court that Bonds are usually posted where there is a claim for money, adding that the reliefs he sought for are declaration, while the suit is about a protection of the receiver /manager appointed by the bank over a mortgaged property.
He argued that Mr Owolegbon is not court appointed Receiver/manager as the duties of the Receiver/manager are dedicated and based on the Tripartite Deed of legal Mortgage, his deed of appointment by statute, consequently, the contents of the exhibit attached to Ladoja's application are false and at variance with the reality of the proceedings and the order of the court.
Mr Adamolekun also stated that the defendants' Bond if granted, will robbed the court of its jurisdiction. He therefore urged the court not to grant the application.
Justice Rilwan Aikawa, after listened to the submissions of the counsel of both parties, adjourned till December 15, 2017 for ruling.