By Egufe Yafugborhi
PORT HARCOURT – GOVERNOR Nyesom Wike Tuesday called on Federal Government, FG, to treat all geopolitical zones in Nigeria equally with reference to recent release of one billion Dollars to tackle the relentless Boko Haram.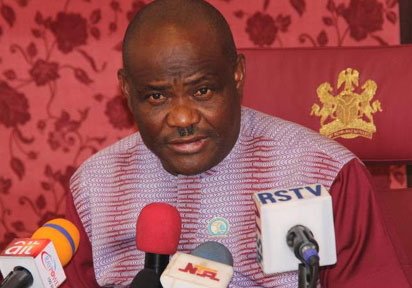 Addressing visiting House of Representatives Committee on Local Content in Port Harcourt, Rivers state yesterday, the governor restated his call for release of funds from the Excess Crude Account to tackle environmental challenges confronting the Niger Delta.
He said: "There should be balance in the way the FG handles issues affecting different parts of the country. As they tackle Boko Haram with $1billion, they must remember that the environmental challenges facing the Niger Delta is the major security challenge.
"If something happens or there is crisis in the Niger Delta, there will be no excess crude for anyone to draw from"
Issues of development and security, Wike stressed, should not be politicised as political parties were mere vehicles that convey politicians to desired destinations.
"This country belongs to all of us. We must work to salvage Nigeria. We shall always talk about the interest of Nigeria", he said, just as he commended the House Committee on Local Content for their role in ensuring that Shell did not leave Rivers State.
Chairman, House of Representatives Committee on Local Content, Emmanuel Ekon lauded Wike for quality leadership that has revived the PDP as main opposition party in Nigeria which, he noted, was heading for a one party state before the PDP's revival.
"Governor Wike by his contributions, provided an alternative for all politicians, even those in the APC", Ekon noted.
Ekon's committee, in Rivers for a two-day retreat, stated that it has influenced creation of several jobs for Nigerians with several illegal expatriates deported.