By Omeiza Ajayi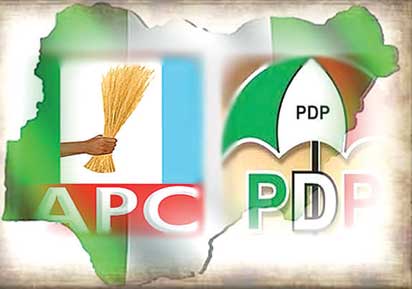 ABUJA – Contrary to reports that only the then ruling Peoples Democratic Party PDP spent billions of Naira to sway electoral support in the 2015 general elections, indications have emerged that the then opposition-All Progressives Congress APC was also engaged in the battle to out-spend the PDP and other parties.
In his yet-to-be launched book, "An Encounter with the Spymaster", public relations expert and crisis communicator, Yushau Shuaibu said the then National Security Adviser NSA, Sambo Dasuki decided to manage the situation secretly without effecting the arrest of members of both parties.
"In fact, the movement of large cash in local and foreign currencies by the two major political parties, APC and PDP, to win primaries and general elections in 2015 were discovered by security and anti-corruption agencies but tactically suppressed to avoid embarrassing outcries that could tarnish the electoral processes and rubbish the image of the country", the book revealed.
Speaking further, the author said, "the attempt to embarrass and villify the former NSA Sambo Dasuki, compelled me to come out from my cocoon to publicly identify with him, especially when I realized that those that were very close to him and major beneficiaries in the previous administration were distancing themselves from him. In my considered opinion, responsible principal and clients who trust and confide in their public relations people, morally deserve protection in and out of office.
"When the Jon-Ode Arms Probe Panel was recklessly indicting almost everybody and institutions that worked for Office of the National Security Adviser ONSA during Dasuki period, I exposed the hanky-panky of the panel and issued a Pre-Action Legal Notice against the team through our lawyers before the government unceremoniously disbanded them. The mischief of the committee which rubbished the image of many individuals and groups also exposed Nigeria's security to international ridicule", he added.
The book also delves into the author's face-off with then then Minister of Finance, Dr Ngozi Okonjo-Iweala which eventually culminated in his sack from the Federal Ministry of Information, an action that was recently reversed by the National Industrial Court in Abuja.
INEC had recently berated political parties in the country for their flagrant violations of the Electoral Law especially with regards to financing.
Though parties are expected to submit to the Commission their election campaign expenses, only five political parties have done so since the 2015 general elections.
"While 24 other political parties did not comply, the case of 17 parties is understandable because they are registered after the general elections. But for parties that contested the general elections, only five complied", INEC chairman, Prof. Mahmood Yakubu had stated.
Vanguard had in February reported that an estimated N1 trillion was spent by INEC, political parties and candidates for the 2015 elections.