Manchester United held on with 10 men after Paul Pogba's late dismissal to beat Arsenal 3-1 in a pulsating game at the Emirates Stadium on Saturday.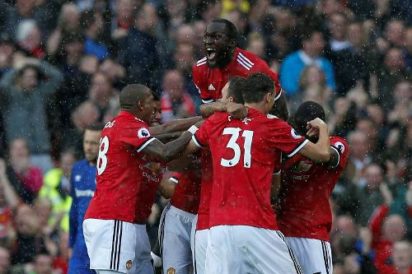 It was on a day when Liverpool and Chelsea also kept up the heat on English Premier League leaders Manchester City.
With Pep Guardiola's free-flowing side not in action until Sunday, second-placed United closed the gap at the top to five points.
But it was with a thrilling display which belied manager Jose Mourinho's reputation as overly defensive away from home.
Goals from Antonio Valencia and Jesse Lingard inside 11 minutes, and a further second-half strike from Lingard, showed United at their best.
However, Pogba's crude 'studs-up' lunge at Hector Bellerin revealed another side in the 75th minute.
The Frenchman deservedly received a straight red card and will miss three games, including next week's derby against City.
Until Pogba's dismissal, everything had looked perfect for United, for whom David De Gea was outstanding and was beaten only by Alexandre Lacazette just after the interval.
"What I saw today was the best goalkeeper in the world," said Mourinho, who said he "did not know" what to make of Pogba's dismissal and would leave it to the television pundits to decide.