Arsene Wenger has said that the title is not City's to lose yet while refusing to give up on his side's hope despite a goalless draw at West Ham United that left Arsenal 19 points adrift of leaders Manchester City.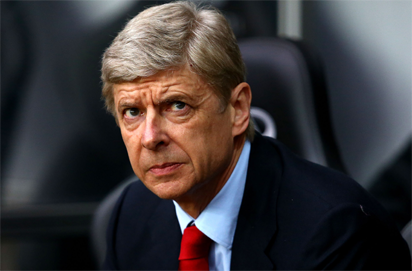 Arsenal are seventh, below Burnley, having added just two points in three games after a 3-1 defeat at home to Manchester United and a 1-1 draw at Southampton before Wednesday's stalemate.
The manager of third-placed Chelsea Antonio Conte and his counterpart at fourth-placed Tottenham, Mauricio Pochettino, have both conceded City will be impossible to overtake, but Wenger says he will not abandon hope of a first Arsenal title since 2004.
"That's good to make headlines, but we have to focus on the next game," the Arsenal manager said.
"City are too far away to talk about the title at the moment, but it's one thing to be far away, it's another thing to give up.
"You don't give up. Our job is to fight as long as we can. I don't listen too much to all that stuff. Our job is to fight and to continue to give everything and see where you finish."
Arsenal are only one point off fourth place but did not look like a side going places despite enjoying the majority of possession against West Ham. Wenger was confident his side would not finish the season in seventh.