By AYO ONIKOYI
In spite of challenges with online trade in Africa the e-commerce giant, Mall For Africa, has proved its mettle by winning the Drapers Award for Innovation in Fashion at the recently concluded Drapers Award ceremony in London.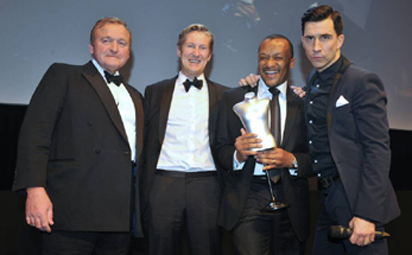 Now in its 27th year, the Drapers Awards celebrates the best in fashion retailing, and is considered the UK's most highly-respected fashion industry awards. The awards are aimed at recognising the top performing and most innovative businesses in fashion retail. With past winners such at Next, BooHoo, and H&M, the awards are considered to be the Oscars for retail fashion in the UK. Mall for Africa has now joined this elite group of Drapers winners.
Historically African markets specifically and emerging markets in general are excluded from international fashion retail due to various concern from inability accepting local payments to ensuring local fulfilment thus making international retail hard to access in these local markets. However, through the convergence of payment solutions, marketing, and technology, Mall for Africa has successfully solved these problems and is introducing African markets to simple ways of purchasing items directly from international stores and delivering the items to local buyers.
Speaking with newsmen, The Company's Co-Founder Tope Folayan had this to say; "We are extremely proud of this recognition. We have worked very hard these past few years to provide African's with access to international stores and brands. We provide end-to-end services so customers can shop regardless of their location and have items they purchased delivered to them locally all from our App. This is why we say with our App you can "shop global and pick up local."
Launched in Nigeria and now delivering to over 7 countries, Mall For Africa has quickly emerged as a trailblazer in the international e-commerce space. After years of experience in the technology industry, co-founders Chris and Tope Folayan observed the changing commercial landscape and set out to design a full-service application that caters to the buying needs of the African shopper. Mall for Africa manages the payments, logistics, and local customer support needs of buyers through its platform and has over 150 international stores and brands customers can pick from. This company is definitely one to watch…