By Victor Ahiuma-Young
THE National Union of Electricity Employees, NUEE, has said it is sad that about 1,000 former staff of the defunct Power Holding Company of Nigeria, PHCN disengaged four years ago are yet to receive their severance benefits.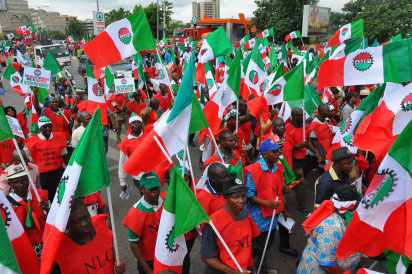 President of NUEE, Mr Martin Uzoegwu, disclosed this during the National Executive Council, NEC, a meeting of the union in Lagos.
Uzoegwu said it was worrisome that the disengaged workers who had put in many years in service had yet to be paid their benefit by the Federal Government.
"This is corruption and unfair labour practice. We advice the government to put necessary machinery in place to ensure that these ex-workers receive their severance benefit."
The NUEE president said the objective of the meeting was to brainstorm on issues arising from privatisation and post privatisation of power sector.
It will be recalled that the former staff of PHCN have been protesting unpaid benefits for some time.
In one of their protests, the aggrieved former workers in  Oyo District, protested what they referred to as "non-payment of our entitlements by the immediate past administration of former President Goodluck Jonathan".
The aggrieved retirees, some of who looked dejected, took to the streets, appealing to President Muhammadu Buhari to save their souls.
During the protest, the retired workers said besides months of unpaid salaries, their unsettled terminal benefits which included severance payment, retirement gratuity, death benefits and pension deduction, among other entitlements, "are still pending with the federal government".
According to their spokesman, Mr. Bolanle Ojelabi, all the collective agreements reached between the union and government in the power sector had been breached.
He said presently, the pension deductions of retired workers from July, 2012 till date had not been effected, adding that those who retired statutorily are yet to be paid their gratuity.
While pointing out that the death benefits of those who died in active service are yet to be paid to their families, Ojelabi, who wept profusely, lamented that "no fewer than 10 of our colleagues have died of high blood pressures and other ailments that were not terminal, due to lack of funds to take care of their health.
"Since we joined the PHCN till our retirement in October 2013, we have not been paid a dime as severance entitlements". Other issues begging for urgent attention of the present administration include verbal disengagement of verified casual workers from the sector without remuneration and institutionalisation of casual/contract appointments. What is more, immediately after retirement, the management of the defunct company solicited for extension of our service for six months with fixed amount of payment on monthly basis. We entered into a written agreement, but yet to be fulfilled till today".
According to him, before the expiration of the Jonathan administration, the Bureau of Public Enterprise announced that money for payments of all outstanding entitlements of disengaged workers of the defunct power sector had been released to the Accountant-General of the Federation (AGF).
Ojelabi urged the present administration to verify and ascertain the submission with a view to addressing the issues raised without further delay as the flagrant denial of the retired workers right has inflicted unprecedented pain on them.