By Olasunkanmi Akoni
Inspite of the challenges in the past year 2017, Senator Gbenga Ashafa has urged Nigerians not to despair but keep faith with President Muhammadu Buhari led administration for delivery of dividends of democracy in this new year of 2018 and beyond.
Ashafa, representing Lagos East Senatorial District, stated this in his 2018, New Year message to Nigerians and Lagos residents in particular, saying, "I wish you all a prosperous, peaceful and more profitable 2018."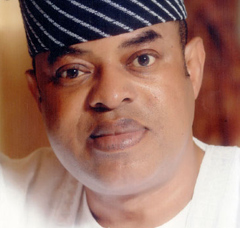 The senator, in a statement through his Special Assistant on Media, Mr Olasunkanmi … noted there were lot to be thankful for as a people.
His wirds: "My dear Good people of Lagos East Senatorial District and indeed fellow Nigerians, I join you in giving thanks to Almighty God who has kept us as one people from the beginning of the year till the end of 2017.
"You would recall that as we commenced the year 2017, I urged you all not to despair, but keep faith with the Buhari led administration. I urged us further to challenge the government to do better in a constructive fashion, as the government worked to improve the economy. This remains a substantial responsibility of the "office of the citizen".
"While we are not yet where we hope to be, we have definitely moved in a positive direction from where we are coming from. Thankfully we have come out of the recession that we grappled with in the earlier years. We now wait for the effect of this exit from the recession to reflect in the pockets and meal tables of all Nigerians. I see this happening in 2018.
"I strongly believe that in 2018 all the work of this administration in the area of infrastructure, the economy, transportation and power would crystalize from promises into tangible performance. It would be a better year and we would all benefit from this."
In the area of transportation, Ashsfa stated that most of the rail construction and rehabilitation projects of the present administration are progressing. "The Lagos to Kano standard gauge rail rehabilitation project is in progress, the Itakpe- Ajaokuta and Warri line is nearing completion while there is also a proposal for the commencement of standard gauge rail rehabilitation along the Eastern Rail Corridor.
"Also, it is significant to note that the Nigerian Railway Corporation just few days ago took delivery of 10 new coaches and 2 locomotives to be deployed on our rail lines to further boost train services for the benefit of all Nigerians. We are moving in the right direction.
"Once again, I say to you, do not despair. The time to reap the benefit of our support for the Muhamadu Buhari led administration is now. Do not therefore be caught napping.
"We all must play our part in governance and rebuilding the Nigeria of our dreams. This task can only be achieved by the positive input of both the Government and the citizens."