By Anthony Ogbonna
The Federal Government has recanted on its earlier statement saying the proposed $1 billion which the state governors had asked it to withdraw from the Excess Crude Account was to fight Boko Haram. It however maintained that the fund is not meant for fighting the terrorist organisation alone but also to tackle other security challenges.
The Vice President, Professor Osinbajo who gave the statement said the fund is meant to fight all forms of security challenges facing various states in the country.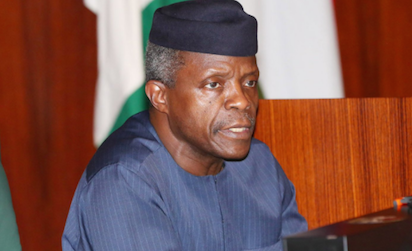 The Vice President gave the comments on Tuesday at the opening of the Secretary to the Government of the Federation and Secretaries to state governments' retreat in Abuja.
Osinbajo said that the fund will be used to tackle security challenges such as, activities of Boko Haram in the North East, kidnapping, small arms trafficking, cattle rustling and clashes between herdsmen and farmers.
According to Osinbajo, "It was on account of the security summit that the governors at the Governors' Forum subsequently decided that they would vote a certain sum of money, which has become somewhat controversial. The $1billion, to assist the security architecture of the country.
"It was to assist all of the issues in the states, including policing in the states, community policing, all of the different security challenges that we have.
"It was after the security summit that the Governors' Forum met across party lines, I must add, in order to approve and to accept that this is what needed to be done to shore up our security architecture."
Recall that the Chairman of the Nigerian Governors Forum, Abdulaziz Yari, had, at a meeting of the National Economic Council last Wednesday, announced that the governors had asked the Federal Government to withdraw $1billion from the ECA to fight Boko Haram.
The decision generated and still generates a lot of criticisms especially from the opposition Peoples Democratic Party, PDP, who claimed the said reason given by the ruling All Progressives Congress, APC-led government for the withdrawal is rather a ploy to deceive Nigerians, maintaining that the said fund is planned to be used by APC for political purposes.