Over creation of Happiness Ministry, sister's appointment as commissioner
By Chidi Nkwopara & Chinonso Alozie
Angry reactions have continued to trail the creation of Ministry of Happiness and Couples Fulfilment by Governor Rochas Okorocha and the subsequent appointment of his sister, Mrs. Ogechi Ololo to superintend over the Ministry.
When contacted for his comment, the former Deputy Speaker, House of Representatives, Chief Emeka Ihedioha, said he was completely tired of talking about Governor Okorocha.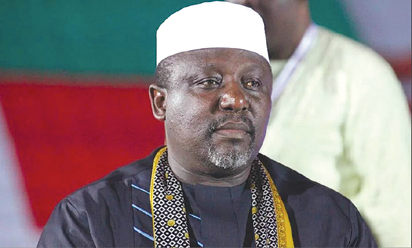 "Honestly, I am completely tired of talking about this man and his style of administration. You can be sure that before we finish talking about  the creation of Ministry of Happiness, he will come with a more bizarre thing", Ihedioha said.
When pressed further, he said that the feelings being expressed by not just Imolites, goes to show the level of displeasure that has engulfed the land.
It's an abomination — Ohakim
Reacting also, the immediate past Governor of Imo State, Chief Ikedi Ohakim, described the creation as an abomination." His words:
"This is a sort of abomination. How can this man continue to insult the sensibilities of Imo citizens? Whose happiness are they looking for when salaries and pensions are not paid? Are we looking for the happiness of the Okorocha family and friends?
"I have not heard about such a ministry anywhere in the world, before. It is not in Britain that gave us independence. It is not in the United States of America, whose democratic system we copied. It is not in Canada. It is nowhere in West Africa.
"I have searched through the internet and I am still searching to see where it was practised and couldn't find any. Honestly, this is a bizarre creation and I won't be surprised to see the Governor's aides struggling to defend this indefensible act."
Speaking to Vanguard also, a social critic and one time supporter of the Governor, Prince Bob Njemanze said: "As I make serious effort to convince myself that Imo has not been trapped by a megalomaniac, the more I am proved wrong by someone I am belabouring myself to make excuses for.
"The recent appointment of the Imo Governor's sister, Mrs. Ogechi Ololo, who as his housekeeper, was designated Deputy Chief of Staff and now branded Minister or Commissioner for Happiness, is an indirect way of re-enacting the Governor's aborted Abortion Law. This shows to what level governance has been reduced in Imo State. This act borders on moonlight jokes and folklore.
"The most uncommon thing is sense and that can be seen from the uncommon wisdom being exhibited by the numerous actions and activities of Governor Rochas Okorocha.
"He needs deliverance"
"Deliverance is what Okorocha needs for his rescue mission. Someone somewhere is mentally challenged. We pray for help before more than one runs amok."
Apparently irked by the development, a former gubernatorial candidate of Democratic Peoples Party, DPP, Dr. Fabian Ihekweme, raised some critical questions in the social media.
"I need all the legal minds and opinion moulders to digest this trending fact of breach of law and reckless impunity and tell us if Mrs. Ogechi Ololo could rightly be addressed as a Commissioner in Imo State.
"The fact remains that she was never subjected to the scrutiny of the House members, as her name was never forwarded for screening.
"What is the true position of the law on this matter? Can the Governor nominate someone and as well confirm the same person as a Commissioner? Can Mrs. Ololo be rightly addressed as a Commissioner? Has the Governor breached the Law and the Constitution of Federal Republic of Nigeria? If yes, what are the implications and remedies?"
The gov noticed people are sad — ex-aide
In his own reaction,  the former Commissioner of Information, under Okorocha's government, Mr Vitalis Ajumbe said that the governor has noticed Imo people are not happy.
Ajumbe said: "The governor has a right to do anything he likes in the process of governance, for him to have appointed a commissioner in charge of Happiness,   that means Imo people are not happy. Somebody should be there to make Imo people happy.
"May be, he has noticed that Imo people are not happy, so he now decided to put a commissioner that will make Imo people happy."
In his view, the State Organizing Secretary of Labour Party, LP, Mr. Igboayaka. O. Igboayaka said, "Let me start with this,  the person the governor appointed as commissioner for Happiness is his sister. She is also the Deputy Chief of Staff, Domestic.
It's nepotism — LP
"This is the high level of mediocrity and nepotism. Okorocha's government does not consider expertise in governance. If you look at his commissioners, they are the same. What Imo people are currently facing is the inability of the government to pay workers and pensioners. This is what we call administrative prodigality.
"The governor and his family members are turning the economy of Imo state into their personal business. However, it is unfortunate, where we have found ourselves. Take note, this is called political familiocracy. We do not need this kind of ministry."
Speaking also, the Director General, New Media, Imo State Peoples Democratic Party, PDP. Arc Akwarandu, made this as his submission: "I have said it all the time that nothing about Okorocha interests me. I wish I can stop talking about him but it is not possible.
"This is just to say that whoever the gods want to kill, they first make him mad. He will continue to make mistake to the detriment of the people who are at the receiving end, the Imolites.
"How can a governor create 27 ministries and a ministry of Happiness and Couples Fulfilment, in a state pensioners are being owed in this time of recession. This is the height of ridicule. This is just, my family, my family governance in Imo State. Also, you can see that the key ministries are not given to any other person if not people around him."
This is the highest ridicule of governance — INC
In his contribution, the national president of Igbo National Council, INC, Chilos Godsent, said: "We have observed the creation of a new ministry called ministry of Happiness and Purpose Fulfilment. This is the highest ridicule of governance.
"A ministry he created without due process, without due consideration of the economic hardships of the state, he arbitrarily