By Simon Ebegbulem
BENIN—GOVERNOR Godwin Obaseki of Edo State has described the annual Igue festival in Benin KIngdom as the pride of the people of the kingdom, expressing optimism that the prayers that come with the festival will bring more progress and development to the state in 2018.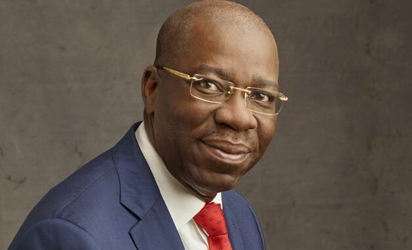 Obaseki, who stated this in his congratulatory message to Omo N' Oba N'Edo, Uku Akpolokpolo, Oba Ewuare II, on the celebration of the 2017 Igue festival, which kicked off Tuesday, prayed for stronger bond among all Edo people, their friends and  neighbours as well as better days for the Benin Kingdom and Nigeria.
"On behalf of the Government and people of Edo State, I congratulate the Omo N' Oba N'Edo, Uku Akpolokpolo, Oba Ewuare II, the Oba of Benin, and all Benin people as well as our friends on the annual Igue Festival celebration. It is my prayer that the New Year brings forth good tidings and a stronger bond between the exalted throne and the Government of Edo State to consolidate on our achievements across all sectors of the state."
He commended everyone participating in the 2017 Igue Festival, both in Benin and other parts of the world for sustaining the rich cultural heritage bequeathed on "this generation by our forefathers."
The governor urged Edo people to use the celebration to forge closer ties with friends and neighbours.
"We wish His Royal Majesty a glorious celebration, excellent health and the divine wisdom to continue to lead us his people to greatness," he said.
The annual Igue Festival is one of the biggest festivals on Nigeria's calendar of high profile festivals and is held in high esteem by Edo people all over the world because of its significance.