The Inspector-General of Police, Mr Ibrahim Idris, on Tuesday warned officers of the  Nigeria Police Force against unethical conduct  during the 2019 general elections.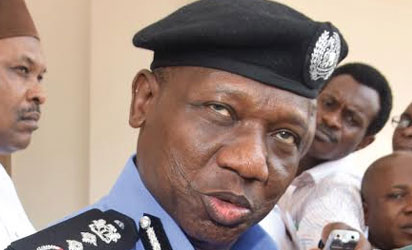 Idris gave the warning at the monthly meeting with officers of the rank of Commissioners of Police and above in Abuja.
He also urged them to avoid temptations from politicians who would want to compromise them, adding that the force was doing its best within limited resources.
"You have to avoid temptations from political actors at the cost of having smooth and credible elections in 2019,"he said.
The police boss said that there was need for officers and men of the force to be steadfast in carrying out their duties professionally.
He charged commissioners of the various commands to impress it on their officers to be civil in discharging their duties.
The high point of the meeting was the decoration of 15 commissioners of police by the inspector-general, among them was Danjuma Ibrahim, who was recently discharged and acquitted over the killing of the Apo six traders.
Meanwhile, the police said it had appealed a Federal High Court judgment awarding the Peace Corps of Nigeria a N12.5 million compensation for unlawful arrest and detention of its officials.
The Commissioner of Police in charge of the legal department, Mr David Igbodo, who disclosed this, said that the force was a law abiding institution.
"We are on appeal and we have transmitted records to the Court of Appeal, until the full process of the court is completed, no action will be taken about the Peace Corps,"he said.
The Federal High Court sitting in Abuja had on Nov. 9  ordered the Nigeria Police to pay N12.5 million to the Peace Corps of Nigeria as compensation for unlawful arrest and detention of its officials and unseal its headquarters in Abuja.
On the reorganisation of the Special Anti Robbery Squad (SARS), the police said it was ongoing.
The commissioner of police in charge of SARS, Mr Haliru Gwandu, made the disclosure at the Inspector-General of police monthly meeting  with senior officers in Abuja.
He explained that after reorganisation, the unit would only concentrate on violent crimes such as murder and armed robbery.
Gwandu said that at the completion of the ongoing reorganisation of the unit, the issue of extrajudicial killings in the country would be a thing of the past.
He said that there would be training and retraining of personnel of the unit to enhance efficiency.
Newsmen report that some group of Nigerians recently in the social media, called for the scrapping of SARS over alleged harassment of innocent Nigerians, using the #EndSARS.
NAN