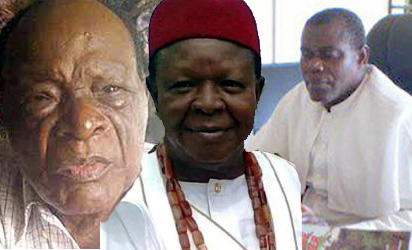 Okpozo, Ugbaja and Rev. Father Christopher Utau
Abuja – The Minister of Youth and Sports, Solomon Dalung, has urged football stakeholders to remain calm over some appointments into the Nigeria Football Federation (NFF) board by the Federal Government.

Dalung, in a statement on Saturday in Abuja, said efforts were being made to correct an oversight made following the recent appointments into the NFF board.
The Federal government had announced the appointments on Friday of over 1,000 members, including 209 board Chairmen.
They are to fill positions on the boards of government parastatals, including the NFF and the National Youth Service Corps (NYSC).
Others are the National Institute for Sports and the Citizenship and Leadership Training Centre which are all under the Ministry of Youth and Sports Development.
Dalung, in the statement released by Nneka Ikem-Anibeze, his Special Assistant on Media, said the appointment of members into the NFF board by government was an oversight.
"By virtue of their (NFF) statutes, members are elected and not appointed.
"The appointments were an oversight which is being sorted out. NFF is governed by statutes and board members are elected by congress and not appointed.
"I am appealing for calm from all stakeholders as it was an administrative oversight. Efforts are tailored towards addressing it very soon."
The Minister also stated that government and football's world governing body FIFA were in talks to clarify the issue and assure them that no harm was intended.
"I have spoken with ythe FIFA General Secretary over the situation in Nigeria and conveyed Federal Government's commitment to upholding the governance structure of the NFF.
"All efforts are on course to liaise with CAF and FIFA on constructive engagement that the situation may likely attract.
"The current board of NFF under Amaju Pinnick has provided leadership but their performance is subject to a congress and not appointment,'' Dalung stated.(NAN)