By Dapo Akinrefon & Rotimi Ojomoyela
Ado-Ekiti—THE National Council of Muslim Youth Organisations   (NACOMYO) has described Governor Ayo Fayose's Christmas clothes gifts for 10,000 children in Ekiti State  as an attempt to elevate one religion over another.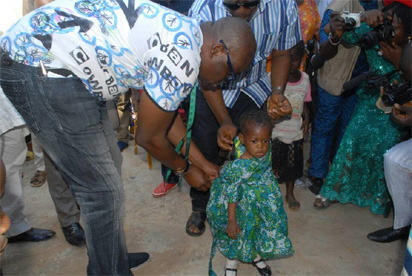 NACOMYO described the gesture as "unacceptable and a breach of Section 10 of the 1999 Constitution (as amended)", insisting that the section provides that "the Government of the Federation or of a state shall not adopt any religion as state religion."
In a statement by its State Coordinator, Alhaji Tajudeen Olutope Ahmed, NACOMYO said in as much as the group was not aversed to any form of child welfare or development, it was worried that "our commonwealth as a state is being used to promote a particular religion and to placate the subscribers of the religion."
The statement reads in part: "It is on the basis of the above that we hereby call on Governor Fayose to suspend his planned celebration of Christians and Christianity during the forthcoming Yuletide period.
"In the alternative, if the governor is determined to go ahead with his planned provision of Christmas dresses, he should disclose the budget for the dresses to the public and be ready to expend the same amount during the forthcoming Muslim festival. This is the justice of the matter."
The gov has been fair— CPS
In his reaction, the governor's Chief Press Secretary, Mr. Idowu Adelusi said Fayose has been fair to all religions in the state.
Adelusi said: "the governor has been fair to all religions in the state; he has never for once discriminated against any religion."
"During Muslim festivals, the governor distributes ram and even goes to the mosque to felicitate with them. Have you heard the Christians complained about it once? I don't see why the Muslims should complain and in any case, if there should be a screening of the children given clothes, not all of them will be Christians. Some of them will be Muslims, while some will be Christians because it is free. So, those raising dust over this gesture have no point at all", he said.