By Henry Umoru
ABUJA—DEPUTY Senate President  Ike Ekweremadu, yesterday, donated gift items worth millions of naira to Internally Displaced Persons, IDP, camps in Gombe State, during the Christmas holiday.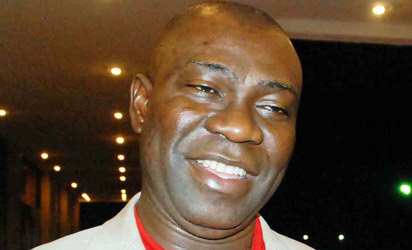 Also, Senator Ekweremadu and his wife, Lady Nwanneka have hostted 250 widows from Enugu State and distributed wrappers and food items to them.
At the first presentation, which was to IDPs from Borno and Yobe States, Ekweremadu, represented by his Special Assistant on Political Matters and former Chairman of Conference of State Legislatures of Nigeria,  Inuwa Garba, assured the IDPs that the National Assembly and President Muhammadu Buhari administration were working hand-in-hand to  end insurgency so that they could return to their homes to resume their normal lives.
"But until we achieve that, you deserve all the support the government, kind-spirited Nigerians and the international community can offer to ameliorate your challenges and put smiles on your faces," he said.
Receiving the items on behalf of the excited IDPs, Chairman of IDPs from Borno and Yobe States, Alhaji Abba Danbuwa and the Chairman of IDPs from Adamawa residing in Southern Gombe State, Mr. Michael Ntebuwa, expressed gratitude to Ekweremadu for consistently reaching out to Nigerians in various IDP camps in the North East.
Meanwhile, in Enugu, where the Senator and his wife, Lady Nwanneka, hosted the 2017 edition of Christmas with Widows, 250 widows drawn the five local government areas of Enugu West Senatorial district, smiled home with gifts of N10.000 cash, a bag of rice, and wrappers each.
Speaking on the occasion, which has been the family's tradition since 1997, Lady Nnwaneka said that reaching out to the less privileged and giving back to society every yultide was aimed at ensuring that the joy of Christmas went round.
On his part, Senator Ekweremadu said that the spirit of sharing was an integral part of African cultures to promote happiness and social stability.