By Henry Umoru
FORMER Speaker of the Parliament of the Economic Community of West African States, ECOWAS Parliament, Senator Ike Ekweremadu, yesterday congratulated a serving member of the Community Parliament, Senator George Oppong Weah, on his victory in the Liberian presidential election.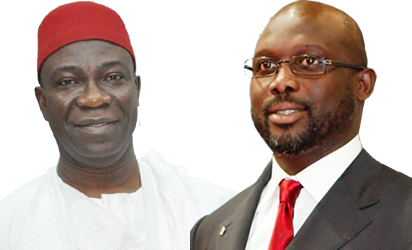 Ekweremadu also commended President Ellen Johnson Sirleaf for guiding the West African nation through a peaceful presidential election and described the candidate of the ruling Unity Party, Vice President Joseph Boakai as a true statesman for his sportsmanship and respect for the ballot box in conceding defeat.
In a statement by his Special Adviser, Media, Uche Anichukwu, Ekweremadu said, "I congratulate Senator George Weah on this hard-won victory. It is a well-deserved reward for his love and sacrifices for his country in her dire moments. Among others, he channeled his personal resources, goodwill, and contacts to raise hopes and reunite a hitherto war-torn nation on the platform of football.
"Indeed, he has also always impressed me as a focused, patriotic gentleman and a presidential material right from the day I presided over his inauguration as a Member of the Liberian Country Delegation to the ECOWAS Parliament on May 11, 2015".
Ekweremadu urged the former World Footballer of the Year "to reciprocate the immense goodwill and confidence reposed in him by the good people of Liberia and the international community by running an all-inclusive government.
"The successful election that will not only see to the historic transfer of power from one democratic government to another in Liberia in about 73 years, but also the transfer of power from a ruling party to the opposition, is a giant stride for democracy and stability in Liberia and the entire West Africa.
"I congratulate Liberians on this feat, especially bouncing back from a checkered history of wars and instability to a beacon of democracy on the continent.