By Emeka Mamah
ENUGU—The Deputy President of the Senate, Chief Ike Ekweremadu, has called for parliamentary system of government in the country, saying that the current presidential system is too expensive and cumbersome.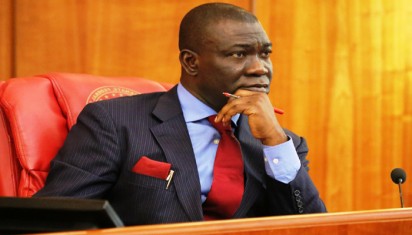 Ekweremadu spoke, during a parliamentary session of the Enugu West People's Assembly in Udi Local Government, Enugu State, where opportunities were given to the people in the grassroots to interact and ask the leadership of the Senatorial District to give account of their stewardship.
He explained that the Enugu West Parliamentary session was an example of democracy in action, which would enable everyone to air his or her opinions, ask questions and demand answers.
According to him, "the parliamentary system of government will engender more robust debates which always brings out the best in a democracy."
He assured the people that all their requests would be captured in the federal, state and local government budgets.
He used the opportunity to announce the state government's intention to establish two industrial parks in the state; one at the 9th Mile area and the other at Emene, arguing that they would help boost youth empowerment
His words: "You can see that all your representatives are here from the Senate to the House of Assembly, including the chairmen of local government areas and councillors, taking questions and giving answers. This is democracy in action. I can assure you that this is how democracy is practiced for the benefit of the people.
"Our parliament which is the Enugu West People's Assembly is the best in the world, because everybody who is supposed to be here is in attendance and actively involved in the process. It is face to face; the people and their representatives."
Ekweremadu stressed that the parliamentary system of government would not only make it faster and easier to pass legislation but also help institute the will of the people in a style that would quicken legislative action.
The senator asked the youths to avail themselves of the opportunities offered by the European Vocational School, which was facilitated by him to learn skills that will empower them economically, advising other well-meaning Nigerians to sponsor the youths' education.
Most legislators and government officials in attendance took questions from the people, including Hon Toby Okechukwu, member representing Aninri/Awgu/Orji – River Federal Constituency; Hon. Dennis Amadi, Representing Udi/Ezeagu Federal Constituency;Traditional Rulers, Constituents among others.
Participants at the parliamentary session demanded that Enugu Electricity Distribution Company, EEDC, should as a matter of urgency, provide meters to electricity consumers in the state.