BY ROTIMI AGBANA
It was a soul-stirring evening of gospel music as Dupsy Oyeneyin, Assata  All-well Brown, Victoria Orenze and Ifeoluwa Akinpelu a.k.a Ife Worships showcased their music talents before a packed audience at the 4th edition of Foretaste Concert at Muson Centre, Lagos.
Speaking on the vision of Foretaste and its impacts, host and initiator, Dupsy Oyeneyin told the media that it all started in 1987 when she gave her life to Christ and joined in a choir ministration.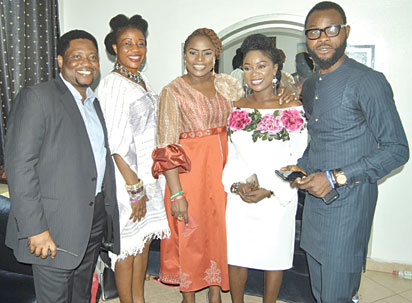 Dupsy said that she started recording her own songs professionally in 1999 after she contributed in recording an album while in the University   fellowship choir.  "But I ventured into gospel music professionally in 2004 before the vision of Foretaste came to reality."
According to her, "Foretaste itself wasn't my idea, it was divinely given to me for a start. I can still recall that when I first had the inspiration to do it, I thought it was for someone God was referring me to, because to me I'm not a good planner naturally.
But since we kicked off with the 1st edition till this 4th edition, God has been bringing people my way and the concert is getting better by the day. My happiness today is that  through the gospel music concert, God has been impacting lives and thousands of people are testifying.
In addition, her husband, Gbemi Oyeniyin said the vision of Foretaste is all about worship.