By Emman Ovuakporie
ABUJA—Deputy governorship candidate of All Progressives Congress, APC, in the 2015 gubernatorial election in Kogi State, James Abiodun Faleke, has advised the state governor, Yahaya Bello, against dragging President Muhammadu Buhari into his double voter registration saga with the Independent National Electoral Commission, INEC.
Faleke said in a statement yesterday that the governor's decision to register with the electoral commission multiple times was not only shameful but also an attitude opposite to the principles the President stood for.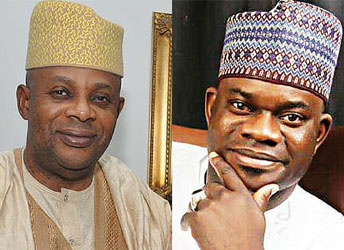 Faleke, who is chairman, House committee on Customs, however, advised Governor Bello to stop dragging the name of the President in the mud and deal with his decision to embark on double registration.
Vanguard recalls that Governor Bello was last week accused of double registration by the INEC, which, thereafter, sacked three of its staff involved in the illegal action.
The electoral body also said it would have prosecuted the governor but for the immunity he enjoys.
But the governor had  on Monday, during a programme aired by African Independent Television, AIT, denied any involvement in the double registration accusation, asserting that having received regular mentorship from President Buhari, he had been operating above board in his official duties.
However, Faleke disagrees with the governor, saying President Buhari could not have mentored him, since the president is a direct opposite of what the governor stood for.
"Yahaya Bello should stop using the President's name to commit illegality. I make bold to tell the governor that he has disgraced the good people of Kogi with his act of double registration.
"I can confirm that Governor Bello did his first registration in Abuja on January 30, 2011, while he did the second illegal registration on May 22, 2017 at Government House, Lokoja.
"I challenge him to go to court on this. It is an incontrovertible fact. The governor ought to have known that for a body like INEC to come up with such a decision, it must have got its facts right.
"After the registration, the governor's camp in wild celebration to prove that the governor had succeeded in registering in Kogi State at last, went to town with pictures of the registration process backed by a press release signed by the Director-General of his media team, Kingsley Fanwo explaining why the governor had to re-register in Kogi.
"It is very unfortunate that the governor even went ahead to induce some INEC staff to remove the hard-drive from the computer used in committing the illegal registration in order to hide his intentions.  I have my facts and I also challenge him to go to court on this," he added.
Faleke said President Buhari was known all over the world for his virtues of incorruptibility, honesty, discipline and spartan life style.