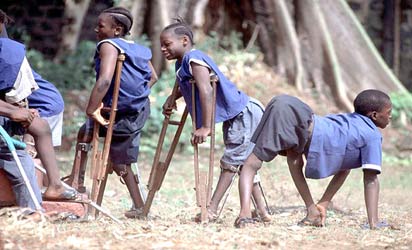 Polio kids victims
By Vincent Ujumadu
Awka– PEOPLE With Disabilities, PWDs, have told Nigerians in plain language that they do not need pity from them, but encouragement to participate fully in Nigeria's political and electoral processes.
Speaking through a nongovernmental organization, the Inclusive Friends Association, IFA, as part of activities to mark this year's International Day for Persons with Disabilities, they called on the National Assembly and the National Orientation Agency, NOA, to plan better for PWDs in future elections by collecting the appropriate data and type of disabilities to guide them in ensuring inclusive participation of disabled persons during elections.
Executive director of IFA, Grace Jerry, who signed the statement, however observed that the Independent National Electoral Commission, INEC, had made some improvements in ensuring that PWDs were part of the electoral process, adding that they needed to do more.
She said: "As we commemorate the IDPD this year, Nigeria and its citizens must reflect on the barriers that PWDs face in political and electoral processes and partner with Disabled Persons Organizations (DPOs) to remove these barriers.
"Nigeria's 27.3 million PWDs are willing, able and ready to participate in their country's political and electoral processes as voters, candidates and election observers.
"The Inclusive Friends Association and its partners conducted polling unit accessibility audits during the 2016 governorship elections in Edo and Ondo states to ascertain the magnitude of barriers faced by PWDs on Election Day. These audits revealed widespread barriers to PWDs participation, including inaccessible polling units and the absence of Braille or Tactile ballots. Recently, the IFA conducted a limited observation of the Anambra governorship election and found out that the barriers observed in 2016 were still there.
"IFA is asking other electoral stakeholders like the National Assembly and National Orientation Agency to emulate INEC and calls on INEC to do more. One of such areas is collecting the data of PWDs, disaggregated by type of disabilities, to enable them plan better for our participation. "Based on our observation from the Anambra election, INEC also needs to ensure that they train polling officials on the use of Form EC40H, the form used to capture the data of PWDs on Election Day."
Jerry, who is also the coordinator of Access Nigeria: Disability Votes Matter, expressed happiness that her group's efforts were yielding good results for PWDs, hoping that with the support of INEC, steps would be taken to remove the barriers that PWDs faced in the electoral process.
She commended INEC for developing a disability framework that would articulate specific steps to make elections more accessible for PWDs, recalling that INEC Chairman, Professor Mahmood Yakubu had promised to introduce a new polling unit layout, tactile ballots and accessible voting cubicles in future elections.
Se said further: "For PWDs, voting is not just about casting ballots – it is about belonging to the human race. We do not want pity; we want the joy of full participation in Nigeria's political and electoral processes.
"As the 2019 elections approach, we call on INEC to implement all the recommendations in our "Disability Votes Matter" Report. The NOA should design voter education materials and messages to target citizens with all forms of disabilities.
"We also call on the National Assembly to immediately amend section 56 (2) of the Electoral Act to make the provision of Braille or Tactile ballots and off-site voting mandatory to help increase the participation of PWDs in the electoral process. They should also expedite action on the passage and harmonization of the National Disability Bill for onward transmission to the President for assent."