By Ola Ajayi
IBADAN—THE Olubadan of Ibadanland, Oba Saliu Adetunji has described the plot by his kingmakers to dethrone him as the "end-of-the-year entertainment" that will never see the light of day.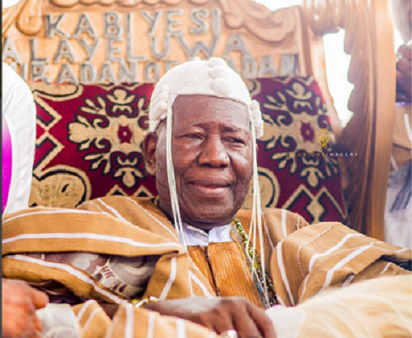 The monarch, who reacted to the 21-day deposition notice served on him by nine of his high chiefs recently elevated by Governor Abiola Ajimobi of Oyo State, said the threat was nothing but an affront to the people of Ibadan.
He said this in a statement by hisDirector of Media and Public Affairs, Mr. Adeola Oloko.
The monarch, who stated that the "so-called Oba-in-Council" was unknown to the Oyo State Chieftaincy Laws, wondered how a group of educated individuals such as the "embattled high chiefs" could resort to illegality by commenting on a matter before the court.
The monarch, who pleaded with the court to take judicious notice of the alleged persistent contempt of court on the matter said, "if a scape-goat is not made of at least one or two culprits, there may be no end to court contempt."
On the issue raised by the Oba-in-Council, the Olubadan contended that the council in question which comprises high chiefs and Olubadan only is basically an advisory council with no force of law, customs and traditions backing it.
"In the same vein, bale (community leaders) who the embattled high chiefs have added to themselves to become 21 are not members of Olubadan-in-Council and therefore should not be dressed in a borrowed robe as they have no power whatsoever over their lord", he stated.
He maintained that as the prescribed and appointing authority, he can promote or peg the promotion of a high chief as long as he wishes but added that he did not contemplate any such decision as he does not see himself as an absolute monarch.
The statement reads: "By custom and tradition, no Olubadan has been recommended for removal from office by any high chief or group of high chiefs at any time and my own reign will not be an exception."
"At least, we have received applications from families of about four of the embattled high chiefs asking for their immediate replacement.
"But, like a prodigal son, we hope that they would sooner than later renounce the unrecognised crowns and return to the warm embrace of their father as the palace door is perpetually open.
"The high chiefs are hereby advised to emulate high chiefs in other places  who are not wearing crowns but still earn respect of their people for peace and progress to reign supreme in the land."