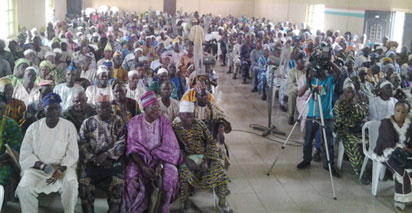 Pensioners in Ondo State addressing a press conference
The Daura Local Government chapter of the Nigeria Union of Pensioners, has lauded the Katsina State Government for its regular payment of entitlements to its members.
The state union chapter chairman, Malam Yusuf Danjuma, made this commendation during his visit to Daura at the ongoing screening and verification of eligible pensioners on Wednesday.
He said the State Government had settled the backlog of pension arrears for hundreds of pensioners in the area.
Danjuma said the union was particularly grateful to Gov. Aminu Masari administration, knowing that the pension arrears had been inherited from the immediate past administration of Gov. Ibrahim Shema.
"I cannot exactly disclose the amount involved but majority of my members have been paid their arrears," he said.
He also praised Masari for his consistency in the payment of death benefits to the families of deceased pensioners.
"We remain grateful to the present administration for the regular payment of death benefits to the families of our departed colleagues.
Danjuma, therefore, called on the pensioners to cooperate with the verification committee for a hitch-free exercise.
According to him, the ongoing verification is aimed at determining the authentic number of pensioners in the area.
He said the committee was expected to screen and verify 360 pensioners in the area for proper documentation.
Danjuma advised the pensioners to avail themselves of the opportunity of the verification, scheduled to last for 30 days, warning that "whoever misses the opportunity will have himself to blame".
Newsmen report that the exercise is holding simultaneously across the five council areas of Daura, Zango, Maiadua, Baure and Sandamu.
NAN