Abuja – Solomon Dalung, the Minister of Youths and Sports, says Nigeria is prepared to make a statement at Russia 2018, adding that Friday's draw was a decent one.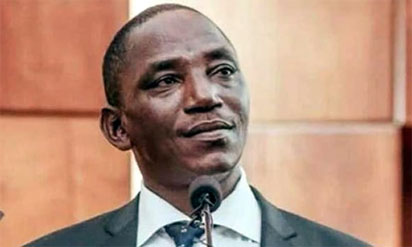 Nigeria on Friday in Moscow drew Argentina, Iceland and Croatia in Group D of the competition's first round phase.
It was the fifth time Nigeria were being drawn alongside Argentina in Super Eagles' six appearances at the 2018 FIFA World Cup finals.
The Minister, who spoke with newsmen on Saturday on the sidelines of the 2017 Korean Ambassador's Cup Taekwondo Championships in Abuja, said the draw was alright for Nigeria.
"In spite of the fact that Nigeria are underdogs, compared to the other teams in our group and based on their rankings in the world, the draw was good.
"But again, you have to look at how Nigeria prepared for the qualification competition. It is clear that Nigeria is determined to make a statement.
"Therefore, I am confident that Nigeria will surprise the world. We will be able to go as far as setting an African record, that is if we do not even make it to the final," he said.
NAN reports that Nigeria will take on Croatia on June 16 in Kaliningrad, before facing Iceland on June 22 in Volgograd and Argentina on June 26 in St. Petersburg.
The 2018 FIFA World Cup is scheduled to kick off on June 14 and last till July 15.(NAN)