By Ephraim Oseji
Felix Aganbi is the MD of Akogate Group, a solar energy outfit operating in the South-South. He speaks on how to make electricity available to Nigerians.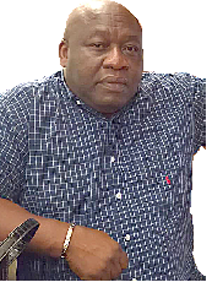 With the challenges facing the energy sector, do you think government's economic recovery policies are making the desired impacts?
I do not. I say so because energy is not a cheap commodity. It is not a business for government. The private sector does not have open hand to run energy business I'm Nigeria. Meanwhile, energy production and sales have gone digital. I am baffled that the energy sector is still in the quagmire of monopolistic operation whereas other nations are moving into the digital stage. The policies so far are like you are giving me something and, at the same time, taking it back.  I strongly believe government needs to steer clear of the energy business. Government does not do energy business but regulates it. Once government takes its hands off energy business, Nigeria will be one of the most viable countries in terms of entrepreneurship. One of the greatest problems of any entrepreneur is energy. If energy takes its rightful place, Nigeria will be great in Africa. The policies are twisted.  Energy all over the world is not cheap but is very vital. When you have a buoyant energy business, you must pay for it. But when government is entangled in policies and business and probably just gives a fraction to the private sector, there will be issues. Government should leave energy business for the private sector.
The N7.44 trillion 2018 budget has about 1.8 trillion allocation for debt servicing. As an entrepreneur, what do you think is the economic implication of allocating such a huge sum for debt servicing in an economy that is in crisis?
When you talk about debt servicing, are they sincere? Because our debt profile is about N1.7 trillion and this story about debt servicing keeps reoccurring. We do not see the money. Pensioners are dying. Who do they pay the money to? Where is the money kept? Where is the record of debt payment?
Government should give priority to agriculture, aviation, economic roads. Concession of economic roads, for instance, will turn the economy around because there will be more jobs. Now they are talking about public private partnership on roads, that will not work. If our roads are not good, how can we move our wares from the market, the farm and industries? Those days when I was much younger, Ore was a hub because the road was busy because Benin-Ore-Lagos Road was good. Now, the road had virtually disappeared before they started fixing it. And it is taking close to a year to fix a road of about 500 kilometers. But if the contractors know that the bank can give them 100% of their value, the road will be finished in 6 months. and that road is an economic road.
When these roads are done, the economy will pick up. When government starts seeing roads as business by giving concession, you will see the contractors will take their jobs more seriously.
Recession
I am not an economist, so i do not know how they calculated whether we are out of recession or not. What I see however is that the common man does not see food on his table. And yet we say we are out of recession. If there is no job creation, no concession of big projects to drive the economy, no 100% disengagement from the power and energy sector, no concession of agriculture projects, I do not see how we can be out of recession. The common man still sees recession on his dinning table. My formula for getting out of recession is to have steady electricity, have enough money to buy food stuff, come home to cook and sleep with our eyes closed.
Inflation is double digits
The simplest thing to do to douse inflation is job creation. If I work, you work and we get paid, the market woman sells. It is a circle of physical transaction. There will be cash and goods to buy. The farmer can move his things from the farm to the market, and we can go to the market to buy. If this chain is in place, inflation will go  to 0.5. Inflation comes down when there is economic activity.
How has it affected you as a business man?
Nigeria is a country of surprises. It has been difficult to operate as a business man. I am into solar energy. I design, build and consult on solar in the Niger Delta. When a country is stagnant in terms of ideas, it becomes very difficult to improve on new technologies. Take my water factory for instance, power supply has been a big problem. You do not run a manufacturing outfit without power. Roads, fake solar panels, fake solar equipment have been a big problem. All of these challenges have been affecting us but there is the smile in the pain.
Forex
Policies in Nigeria are wonderful. The problem is implementation. Every thing I need in my water factory i import. If they pump dollars into the forex market, it is supposed to get to us at the bottom. The policy is right but we still have some loop holes in the implementation. Forex is not getting to us.
Challenges
Standards Organization of Nigeria needs to step up its game. Take solar technology, for example, many people want it and my organization has shown them, through integrity, that it works. All we need is integrity of materials and good designs.
We also have problems of roads, power, quality and human capital. And we need to stop the importation of fake equipment into the country as it affects entrepreneurs who bring in quality products.
Over regulation
SMEs are crucial to the development of the economy; they drive the economy as we can see in the developed economies, and there are policies to encourage them but there is the problem of implementation. We should create a conducive atmosphere for SMEs to thrive.