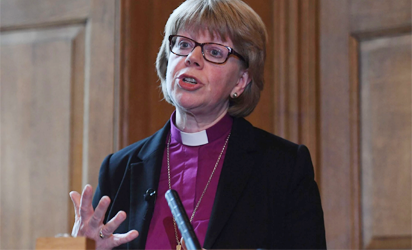 Sarah Mullally,
The Church of England has appointed its most senior female bishop, replacing former bishop of London Richard Chartres, who did not ordain female priests.
Sarah Mullally, former bishop of Crediton in the diocese of Exeter, becomes the most senior woman in the Church of England and the first female bishop of London.
Her appointment is seen as a progressive move, and many in the Church still oppose women's ordination, making her a controversial choice.
A former nurse, she rose to become chief nursing officer for England and was made a dame for services to nursing in 2005, before becoming a priest in 2006.
At a press conference announcing her appointment she was conciliatory towards those who are likely to oppose it.
Priests in the Church who do not believe in women's ordination will likely be ordained by the bishops of Fulham and Maidstone, who minister to those in the diocese who do not accept women priests.
"I am aware that for some the appointment of a woman as a bishop will be difficult. I am very respectful of those who for theological reasons cannot accept my role as a priest or as a bishop," she said.
Commenting on the appointment, the Archbishop of Canterbury Justin Welby said: "As one of the first women consecrated as a bishop in the Church of England, she has not only blazed a trail for others but lived out the principles of mutual flourishing and acceptance which I know will continue to bear fruit in London."
The Church ordained its first woman bishop, Libby Lane, in 2015.